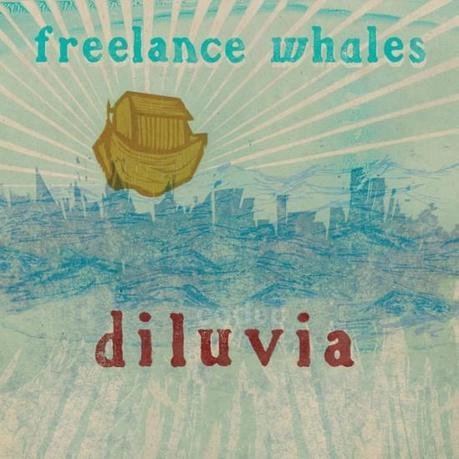 Diluvia may be the second full length feature from New York outfit Freelance Whales (@freelancewhales), but the album is my first hands on experience with their music, and as far as opening gambits go, I welcomed this charming collection of songs with a warm embrace. The first thing to pop is their sound and the blend of instrumentation and style. On one hand, you have a pseudo neo-folk  vibe forged by acoustic guitars, banjo, brass and rustic sounding percussion. Added to this, however, is a slice from the opposite end of the spectrum — ambient synths and some well formed flourishes of melodic electronics carve off a delicate yet effective slice of lite indietronica. Not only do these two core ideas fit together nicely, but over the course of the album, Freelance Whales use a number of techniques to expand and contract the possibilities of both sound pools.
Although the timbre and overall product sound wonderful, what truly makes this album a joy isn't necessarily the sounds created, but rather how those sounds are used and moulded. A number of tracks, including the likes of "DNA Bank" and "Follow Through", progress and evolve in a beautiful, free-flowing manner. Though the album does have its fair share of catchy moments, this isn't the sort of indie pop that's content on putting out a few riffs or hooks and relying on that alone. Around it's melodies, Diluvia wraps and weaves a warm blanket of sound, which seems to be in constant motion. It's this kind of clever and intricate composing which not only engages the listeners heart and head, but shows that pop-orientated music dosent have to be simple — it can be layered and play with different dynamics while still being accesible. Granted, this is a difficult balance to achieve, but for the most part it's a balance that Freelance Whales have grasped tightly.
This may have been my first experience listening to this talented group, but it most definitely wont be my last. Impressed by their lightness of touch, forward thinking principles and overly charming demeanour, I firmly have these New York natives on my radar. If they're not already on yours, I highly recommend you give them a spin. You never know, you might just love them!