If you're like any other expecting parent, you may be realizing how expensive it is to have a baby. With diapers, wipes, clothes, bottles, gear, etc. to buy, the money you once saved for a week-long vacation will now be used to support your new baby for just a year.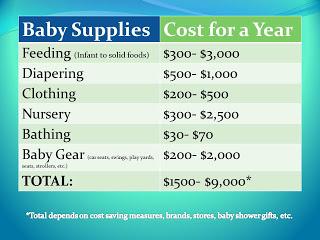 Cost for a baby for one year, not including prenatal visits and birth.
Source: MommyKnowsWhat'sBest/ThePracticalMommy
It seems like a crazy amount, doesn't it? But it's a real number. Every little thing you need (not want) for that cute little baby (or babies!) adds up, and the current costs for everything don't help one bit.
To save some money, you could be a coupon clipper or look for freebies.
There's an entire list of things you could get for free--yes, free--starting right now!
Read more at
Free Baby Products and Samples for Parents
 from ThePracticalMommy.
Have fun saving money!
~Marissa