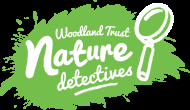 Get these themed activities for nature detectives instantly.
Some favourites:
Age 0-2 - Winter badges - Collect keepsakes from your woodland wander.
Brilliant beech leaf colouring page - Get creative with your mini Nature Detective.
Super sunshine colouring page - Make your own little rays of sunshine.
Leaf collection - Introduce lots of leaves to your little one.
Super sycamore colouring page - Help your little one bring this sycamore leaf and seed to life.
Juicy blackberry colouring page - Get creative with your little one and color in this juicy blackberry.
Age 3-5 - Autumn color bingo - How many of these autumnal colours can you find?
Super snow angel - Pull on your warmest woollies – it's time to play!
Bright ice lanterns - Make glistening outdoor candle holders to light up winter nights.
Marvelous mud creatures - There's nothing better than playing in the mud!
Tree-mendous tree faces - How many faces can you find in the woods?
Mega mud pies - Magic up some marvelous mud pies!
Tree-mendous twig towers - Unleash your inner artist next time you're in the woods.
Twig hunt - Get detecting and see how many of these twigs can you find.
Age 6+ - Garden birds ID - Identify the birds that visit your garden with this handy spotter sheet.
First signs of spring - Look for signs that spring is on its way.
Field maple colouring page - Grab your favorite pens and pencils and get colouring!
Blackberry cobbler - Grab your ingredients and get your bake on!
Forest floor – colouring page - Be a real Nature Detective and get puzzling.
Forest floor – instructions - Be a real Nature Detective and get puzzling.
Forest floor – divide and discover - Be a real Nature Detective and get puzzling.
Click for free play/adventure kits
(Worldwide)
---
---
NOTE -
If any of the above links are not working or the freebies or coupons no longer available, please post a blog comment below and I'll edit it!
---
QUICK FREEBIE TIP:
Make sure that everything you entered in the form is correct. A wrong address may get the free sample to a neighbor instead of you!
Click for more quick freebie tips
---
•
Enjoying all the freebies? Want to keep up with the latest free stuff, deals, coupons, and other ways to save money? Subscribe to
Frugal Freebies'
email updates or RSS Feed
! - it's free!
•
Check us out on Twitter, and join in the conversation of even more great freebies, deals and coupons on our
Frugal Freebies
fan page on Facebook and
Google+. We are even on Pinterest!
More Frugal Blogs and Websites:
•
Born to Love: All your cloth diapering needs, and much more - naturally! We are strong advocates of the personal, social and environmental benefits of natural parenting.
•
Frugal Baby Tips: Money-saving tips on diapering, diaper washing, safety, slings and baby carriers, toys, clothing, nursing, menstrual needs, traveling with kids, more!
•
Jamberry Nails: The hottest trend in nail design. Get high-end nail art without the fuss of polish - or expensive salon visits! Like us on Facebook!
•
Oshawa Journal: A Step Back in Time to the Village of Oshawa - historical family timelines, news clippings, birth/marriage/death/grave records, photos and stories of the people I am researching, as well as the history of streets and houses in the village of Oshawa.