A place for everything and everything in its place.
If you're anything like me, you like to stay organized. Whether it's your home, car, or office, you like to keep everything neat, tidy, and where it belongs. Which is exactly why I created this- a desktop wallpaper where you can do just that. Call it OCD, but when you know exactly where to look for a specific file hidden within a bazillion folders, it makes things a little more simple.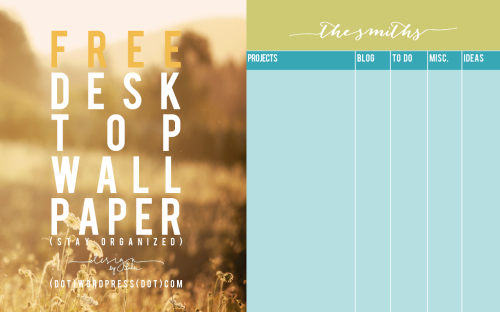 Not sure how to use it? Here are the basics:
(Note that this is all for a Mac, if you're using a PC, I can't really help you)
- 1 -
You'll probably want to change the picture so that it's your own, so download the file, save it to your desktop, then edit it how you prefer. Save the file as a JPG to your desktop once you're done, then open your System Preferences and click 'Desktop & Screen Saver'
- 2 -
From the 'Folders' tab, click 'Desktop' and then select the image you've downloaded/created.
Simple as that, right?
If your icons match up perfectly with the pre-made lines, you're good to go, but my guess is it might need a little adjusting…here's a few more steps to get the wallpaper just perfect:
- 3 -
On your desktop with nothing selected, go to 'View' then 'Show View Options' at the very bottom.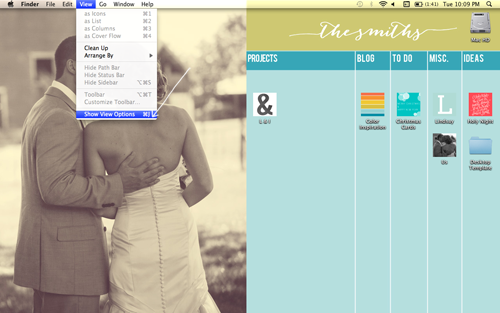 Here you can change both the size of your icons, and how far the space is between them. Move the little dot up and down on the scale until your icons are properly spaced within the lines.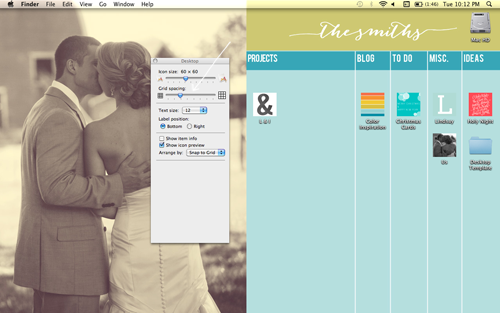 Now you're done! Unless of course, you want to change the folder options to something more fun and cute that is a better representation of what's actually in each particular folder.