Liven Up Lunch Boxes and
Get FREE Kids Sports Sessions with YAZOO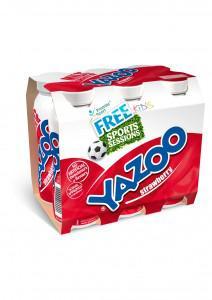 If you are looking for a healthy way to liven up your kid's lunch box YAZOO has the perfect answer. Its 200ml multipacks of milkshake fit perfectly into a lunch box, are packed with goodness and approved for use in English and Welsh schools; and until February 2012 shoppers have the chance to collect free children's sports sessions with every pack.
YAZOO has teamed up with Premier Sport (and Playball in Ireland) to offer schoolchildren free sporting activities, worth up to £15.00* per session. A fantastic opportunity for youngsters to get the perfect healthy start to the school day, or let off steam at an after school club with no extra cost to Mum & Dad.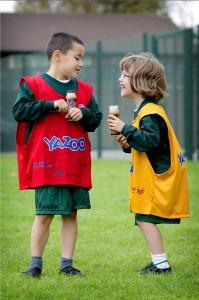 Signing up to a free activity couldn't be simpler; after purchasing a 200ml multipack of YAZOO Chocolate, Strawberry or Banana log on to the website www.yazoo.co.uk and enter the unique on-pack promotional code to produce a voucher for a free activity session with Premier Sport.  Parents will then be guided to the Premier Sport website to sign up for their child's chosen activity. Premier Sport activity clubs are available across the UK, making it even easier for mum to keep the kids entertained during the working week.
The chosen activity will be run at selected schools giving children the opportunity to experience a host of new sports; from cheerleading and dancing to football and tag rugby, taking part in coaching sessions in a friendly and familier environment whilst also having lots of fun!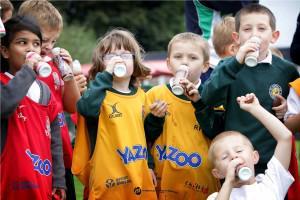 YAZOO is packed with goodness including the same amount of calcium found in a typical glass of milk. Being low in fat and free from artificial sweetners and preservatives, YAZOO is one of only a few select soft drinks which are approved for use in English and Welsh schools and are considered a welcome addition to any pre-packed school lunch. Redemption of the promotion runs until 1st March 2012 (activity must be booked and completed by this date).
For further information regarding this offer, please visit: www.yazoo.co.uk