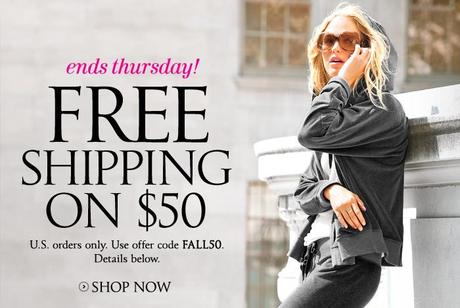 Copyright VIctoria's Secret
First of all, wtf is this girl wearing?  A velour type hoodie and sweatpants matching set.  Mistake number one.  With cheap looking Frye knockoffs.  Mistake number two.  Looking creepy, unkempt and wholly unfashionable, mistake 3 through 5.  That being said.
Right now, when you spend $50 at Victoria's Secret.com with promo code FALL50, you receive free shipping.  Buy something that looks good.  Being all matchy-matchy with hoodie "sets" is so passé.  Mix and match the colors and you are so casually fashionable.  I mean it is called, casual attire for a reason.  You don't need to look like you spent three days planning out your outfit like you did in seventh grade.  Or like a hip great grandma who scored an everyday value down at the local Macy's Alfred Dunner department.  Love you Grandma!

Copyright Victoria's Secret
With any PINK purchase, you can receive a Limited Edition PINK bling bag for only $5.