AOMEI Backupper is one of the best free backup software that comes to scheduled task and automatic backup, the software offers different backup frequencies. You can create Windows 10 backups on a daily, weekly, or monthly basis. AOMEI Backupper supports file backup, system backup, disk backup, and even partition backup. Its incremental and differential backup capabilities are great and help you save disk space on your target while keeping your backups up to date. AOMEI Backupper can automatically protect your Windows 10 from different dimensions, allowing you to worry about the future.
AOMEI Backupper is a file rescue system when anything bad happens. It is the easiest free PC backup software that can create a system image to keep Windows and your applications safe, backup of the entire hard disk, specified partitions, or just to clone them and so on.
Now AOMEI Backupper 5.1 has released!
Version 5.1:
Enhanced compatibility: AOMEI Backupper 5.1 is able to be controlled and managed as clients by AOMEI Centralized Backupper 2.2 to perform backup scheme from one central management console.
Fixed issue: the program crashes because of hundreds of thousands of files in NAS/Share folder.
How to Schedule System Image Backup for Windows 10 with AOMEI Backupper?
Download AOMEI Backupper Standard and install it to run directly. In the Backup tab, select System Backup.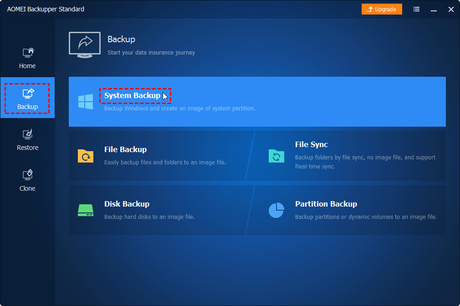 Edit the task name if needed. The required system files are selected by default. Now you need to choose backup destination path.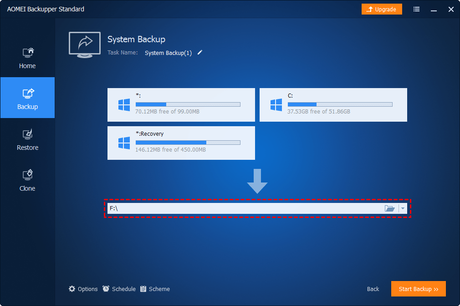 Click Schedule beneath to set backup frequency. In General tab, you can select Daily, Weekly, or Monthly. You can choose full backup, incremental backup, or differential backup on the advanced TAB.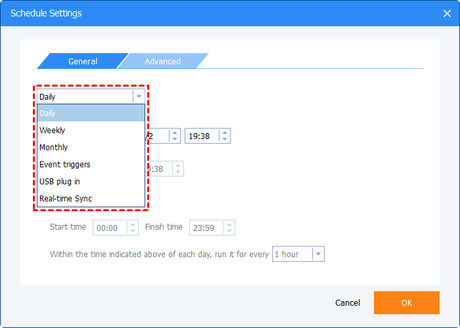 Once the configuration is complete, click Start Backup to add or run the backup task. You can manage this task directly from the Home TAB.
Conclusion
AOMEI Backupper brings a convenient way to backup your Windows, drives, disks and other data by creating a readily available system image file for recovery. AOMEI Backupper is also a disk cloning software that can backup all kinds of hard drives, such as an internal disk, external disk, USB flash drive, SD card, the hard drive on NAS, and other storage devices that can be recognized by Windows. Go for it and have a try.