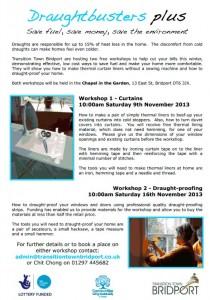 Save fuel, save money, save the environment. Draughts are responsible for up to 15% of heat loss in the home. The discomfort from cold draughts can make homes feel even colder. Transition Town Bridport are hosting two free workshops to help cut your bills this winter, demonstrating effective, low cost ways to save fuel and make your home more comfortable.
They will show you how to make thermal curtain liners without a sewing machine and how to draught-proof your home.
Both workshops will be held in the Chapel in the Garden, 13 East St, Bridport DT6 3JX.
Workshop 1 – Curtains
10:00am Saturday 9th November 2013
How to make a pair of simple thermal liners to beef-up your existing curtains into cold stoppers. Also, how to turn duvet covers into curtains. You will receive free thermal lining material, which does not need hemming, for one of your windows. Please give us the dimensions of your window openings and existing curtains before the workshop.
The liners are made by ironing curtain tape on to the liner with hemming tape and then reinforcing the tape with a minimal number of stitches.
The tools you will need to make thermal liners at home are an iron, hemming tape and a needle and thread.
Workshop 2 – Draught-proofing
10:00am Saturday 16th November 2013
How to draught-proof your windows and doors using professional quality draught-proofing strips. Funding has enabled us to provide materials for the workshop and allow you to buy the materials at less than half the retail price.
The tools you will need to draught-proof your home are a pair of secateurs, a small hacksaw, a tape measure and a small hammer.
For further details or to book a place on
[email protected]
or Chit Chong on 01297 445682