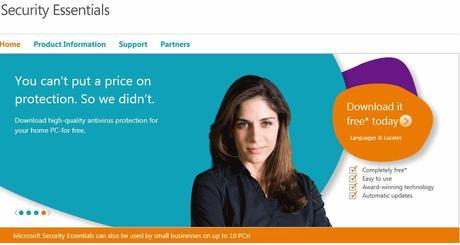 Here are some resources for free internet security software from major vendors. Most of the software is free for home users, while businesses need to purchase a license. We divide the free software into different categories including internet security suites, antivirus, antispyware, and intrusion detection and prevention.
Kaspersky Anti-Virus is often free after rebate.
1. ISP Provided Free Security Software
Subscribers to certain internet service providers get access to free commercial internet security software. There's no need to pay a dime for top notch security software.
AT&T – Free McAfee internet security software.
Century link – Free F-Secure suite.
Charter - Charter security suite.
Comcast - Norton Internet for Mac and PC.
Cox - Free McAfee internet security software.
Optimum - Free CA Internet Security Suite.
Road Runner – Free CA Internet Security Suite.
Verizon - Charges $5.99/mo for internet security software, select one of the free options below instead.
2. Free Internet Security Suite
There are very few Free internet security suites. Most users pick and choose programs from the various categories below to create their own free Internet security suite.
agnitum - Outpost Internet Security Suite is one of the few free suites.
comodo.com – Free Internet Security Suite
3. Free Antivirus  Download
Free PC Antivirus Download that both scans and repairs files. Automatic update virus signatures updating is a must, as is scheduled virus scans.
free.avg.com – AVG Free version.
avast.com – avas!! Free Antivirus includes Web reputation feedback.
avira.com – Avira Antivirus Personal
bitdefender.com – Bitdefender Free Edition – on demand scanner. not automatic, so we recommend only using this for single purpose scans, i.e. when you are trying to remove an infection.
clamwin.com Clamwin – Free & Open source
Microsoft.com – Security Essentials, Only works with Genuine copies of Windows.
Panda Cloud Antivirus  – Free, lightweight.
pctools.com – PC Tools Free Antivirus
rising free antivirus - Free antivirus software.
PC Magazine Best antivirus of 2012 article.
Virus removal tools:
AVG Rescue CD – Bootable CD
Hiren's BootCD – Older antivirus versions
McAfee Labs Stinger
Sophos Anti-Rootkit
Beware of fake Antivirus Software especially those from popup Ads, spam advertisements, and bad Google search results. When in doubt use one of the links above. 'Scareware' that performs fake antivirus scans and make you pay for phony fixes has exploded.
4. Free PC Firewall Software
PC Firewall Software is built into Windows 7 and Vista but power users may want more control, so consider installing one of the following.
zonealarm.com – Zone Alarm Free
comodo.com – Free Firewall & Anti-virus, plus proactive security
pctools.com – PC Tools Firewall Plus
agnitum - Outpost Internet Security Suite is one of the few free suites.
rising free firewall – Free firewall software.
5. Free Antispyware Software
These utilities are mainly useful when you have been infected with malware and need to ensure that you have remove all traces of it.
Ad-aware – Also one of the first antispyware apps. Free for personal home use.
ComboFix is free software that helps remove virulent malware.  It can be run from the Windows Recovery Console.
Emsisoft Anti-Malware – German antimalware
F-Secure has a free bootable Rescue CD that allows you to fix a computer that no longer starts up correctly.
Malwarebytes – Designed to clean out all types of malicious malware.
Norman – Free malware cleaner
Spybot - One of the first anti-spyware apps that has faded in popularity.
SUPERAntiSpyware.com – Detect and remove Spyware, Adware and Remove Malware, Trojans, and more.
ThreatFire AntiVirus – Actively defends against new threats.
6. Free Anti-Phishing Toolbars
Most anti-virus or internet security software provides anti-phishing support built-in. If your security software does not include this feature, consider installing on of these toolbars.
Traffic Light – From bitdefender, unobtrusive web threat control
Netcraft Anti-Phishing Toolbar – Community based anti phishing toolbar.
7. Intrusion prevention and detection
Intrusion prevention and detection software is designed to watch network traffic and prevent attacks on your network. This software is typically targeted towards small to mid-sized businesses.
snort.org – Open source network intrusion prevention and detection system (IDS/IPS)
snmpsoft.com – Syslog Watcher can collect, parse, store and analyze syslogs. Not really an intrusion prevention, however users can examine router and firewall logs looking for intrusions.
Kiwi Syslog Server – Receive and manage syslog messages from network devices.
8. Anti-Virus Review Sites that compare security software
matousec.com – Reviews security software.
AV-comparatives.org – Independent comparatives of Anti-Virus software
PC Magazine – Online review site with security software reviews.
Virus Bulletin – Independent anti-virus software test lab
Virus total scanner – Scan files, you submit, online using multiple virus engines. This process is slow because you have to upload the files to their servers.
Jotti's Malware Scan – Scan files, you submit, online using multiple virus engines
VScan – Scan files, you submit, online using multiple virus engines
OPSWAT Metascan – Scan files, you submit, online using multiple virus engines
9. Malware Analyzers – Analyze the behavior of files you upload:

Anubis sandbox analyser
Threatexpert
Norman
Comodo Instant Analysis
Spycar – Test anti-malware software.
10. Misc Security Software
SuRun is very configurable implementation of Run as Administrator.
There are many free alternatives in Internet security software for the PC. Hopefully the lists of programs above satisfy your needs for internet security software.