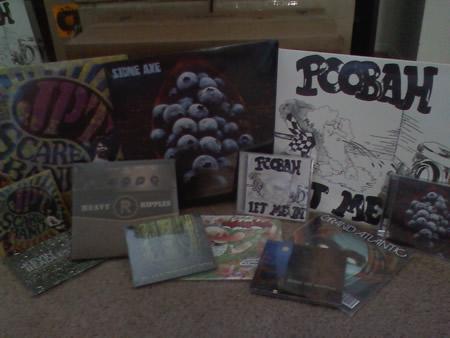 San Ramon's finest rock label Ripple Music celebrate their frist anniversary with a free sampler, available in FLAC, MP3, AAC, ALAC, Ogg Vorbis and MP3 VBR (V0). Specializing in stoner rock old an new, the collection is a mixed bag of lost classics and new artists, as well as two tracks from forthcoming releases.
Featuring every band that has made the first year of Ripple Music such a success, Ripple's Anniversary album kicks off with Stone Axe, before heading down the Ripple highway of Poobah, JPT, Fen, and more. And as a special bonus, The Anniversary Album features the world's first sneak peeks at two new Ripple releases; Grifter's self-titled debut album, and the eagerly anticipated A Different Game, from underground legends, Scotland's Iron Claw.
Download the 1st Anniversary Ripple Music Sampler from the label's website.
Tracks:
Stone Axe - Riders of the Night
Grifter - Good Day For Bad News
JPT Scare Band - It's A Jungle
Poobah - Rock n' Roll
Modern Day Moonshine - Home On The Road
Iron Claw - What Love Left
Mos Generator - Stone County Line
Venomin James - Bullet Juice
Fen - Queen of the Mountain
Mighty High - Don't Panic, It's Organic
Kevin Beadles - Sharkskin
Tripdavon - By The River