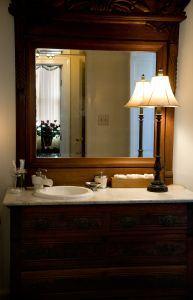 Thursday, August 10, 2006 at 4:32 PM PDT
A week ago on a Tuesday, a chunky-sized white guy with a pot-belly approached me.
I was standing at a bus stop on my way home from work. He struck up a conversation by asking me if i was a Seventh-Day Adventist because that is his religious faith and that he was looking for a woman to settle down with.
I told him no, that i wasn't into that religion.
He mentioned to me his name and quite a few other things about himself that i'd forgot about. But i did remember him telling me that women don't find him attractive ( and he isn't attractive at all).
This past Tuesday i saw him again for the second time. The moment he spotted me waiting to catch my bus home he headed straight over in my direction with speed.
His underarms were smelly and he had on the same funky green-colored shirt and khaki-colored pants that he wore the Tuesday before. He recalled some of the things we chatted about last week and was disappointed that i didn't even remember his name. He repeated it again, "it's Al".
He's fifty-five years of age. And If he isn't hard up then i don't know what is.
His whole conversation was about things of a sexual nature. And i asked him why he singled me out on this particular night because he acted as if we were going to be together.
He told me he was interested because i was attractive, was nice enough to give him a little conversation since nobody else really does (according to him), and because he wouldn't have to worry about catching any disease since i'd told him prior that i don't go to bed with anyone.
He said that he didn't have to penetrate me if we got together, or he could spank me, or we could play strip poker, or he could take nude pictures of me and if that was an embarrassing thing for me that he would take nude pictures of me from the neck down so that my face wasn't shown.
I was thinking if he isn't the biggest nut then i don't know what is!
And he must have read my mind because he said that he knew i probably was thinking him to be crazy.I was so glad when our buses came back to back but when he left he had the nerve to tell me that "he'll see me later".
You know, when you don't want to be bothered with certain people or strangers you don't always have to come off with a nasty attitude so i was courteous the very first time he approached me.
The second time i was still courteous even though he went too far.
I can tell he has a few screws loose. However, If i see him again while i'm waiting for my bus and he decides to approach me he is going to get his feelings hurt.
I am tired of these sickos out here who are sex-crazed rapists and child molesters. Why don't they go get a prostitute?
http://misslatoya.wordpress.com/2007/08/25/freak-of-the-week/