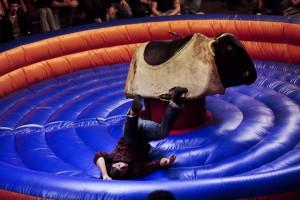 Bumping beats, flushed faces and dramatic dance moves might be the standard for Friday night fun. Add in a mechanical bull and it may raise some eyebrows, which is exactly what Sigma Phi Epsilon fraternity did when it kicked off its annual rodeo at the Blue Dome Friday night.
"Not everyone gets a chance to ride a mechanical bull," said Gary Weeks, Sig Ep chapter president. "We wanted to do something innovative to get people excited."
The rodeo is part of Sig Ep's ongoing goal of raising money for donation to their philanthropy, YouthAIDS, and the fraternity always looks to involve as many students as possible in its pursuits.
"We received a pretty good response from the crowd," said Kyle Knight, Sig Ep vice president of programming. "Everyone had fun watching and riding the bulls."