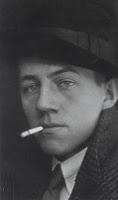 One of the interesting characters from early 20th-Century Schwabing was
Franz Hessel
, a flaneur and friend of Walter Benjamin's whom Anke Gleber has characterized as '
one of the last representatives of the metropolitan, intellectual bohemian characteristic of the European culture of early modernity
.' In his book
Weimar Germany: promise and tragedy
, Eric D. Weitz quotes extensively from Hessel's writings (and Joseph Roth's) in order to convey a sense of Berlin's street life during the Weimar Republic.
Born in Stettin, Hessel arrived in Munich in 1900 as a law student. He soon changed plans in order to focus on archaeology and philosophy. He also became a poet, a vocation that brought him into contact with Karl Wolfskehl and the members of his circle. (I wonder if he bumped into
Frederick Grove
.) In this part of Hessel's life, his bohemian credentials were well and truly established by his complicated relationship with Franziska Gräfin zu
Reventlow
, which began in 1903 when he entered a ménage à trois with her and Bogdan von Suchocki. (Here's a photo of the house in which Reventlow and Suchocki lived at the time; it's in Kaulbachstraße in Munich, and here's a photo in which you can see Hessel with Reventlow's son.) Suchocki seems to have been replaced in this arrangement in 1907 by Henri-Pierre Roché, by which time Hessel had moved to Paris.
Roché and Hessel would later maintain a similar relationship with the German journalist,
Helen Grund
, whom Hessel married in 1913. This ménage became famous as the centrepiece of 
Roché's novel, Jules et Jim
, which was the basis of
Francois Truffaut's film of the same name
. The character of Jules was based on Hessel. Roché was the basis of Jim, and Catherine ('Kathe' in the novel) was based on Grund.
Hessel wrote his own novel about this relationship, but it doesn't seem to be available in English. In German it's called
Alter Mann
, while in French it's
Le Dernier Voyage
. Hessel wrote it in the 1930's, but it was thought to have been lost until it was recovered in 1984.
It looks like Hessel's most important relationships with women were in the context of a ménage à trois. In this setting, Jean-Michel Palmier writes that Hessel 'becomes [women's] confidant, he loves them and admires them at a distance, preferring the role of friend to that of lover.' (Here's the original, French version of Palmier's essay.) Of his relationship with Roché and Grund, Hessel himself (in
Alter Mann
) said that it '
expanded the habitual scope of friendship and love
.'
Franz Hessel
volunteered to fight for Germany in WWI. After the war, he worked in Germany for Rowohlt Verlag. It appears that he and his family fled Germany relatively late (1938) to live in France. In 1940, Hessel suffered a stroke while in a concentration camp in France. He died shortly thereafter in January, 1941.
His and Helen's son, Stéphane, fought for the French resistance and became an accomplished diplomat. Here are brief bios of father and son.
In the course of writing about Hessel's novel
Alter Mann
, Robert Stam says, "Like so much concerning Hessel, the novel almost did not survive." The Nazis tried to stamp out people, their works, their legacies and more. In the case of this good and enlightened man, they failed.