Last weekend we were invited to have lunch at Frankie & Benny's at Glasgow Fort to review their new Specials Menu. We had visitors staying with us as it was the littlest's birthday, so in addition to me and the kids, we had R, Auntie Ali, my dad and his wife Jo with us too.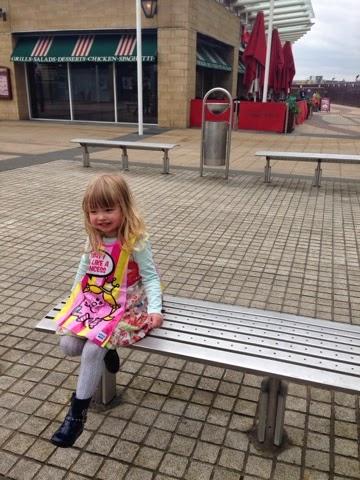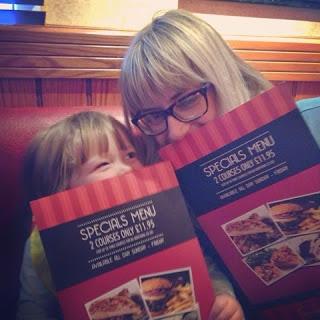 Perusing the Specials Menu - 2 courses for just £11.95
The staff knew we were coming but I did make sure to observe how the other diners were enjoying their lunchtime experience and I don't think we were given any additional special treatment other than the balloons that were at our table - I had informed them that we were celebrating a birthday you see.
Anyway, we were welcomed into the restaurant and shown to our table. The restaurant was a lot bigger than I had anticipated, and I had noted with interest that there was plenty of space for storing prams or buggies (I'm nearly past this stage now and rarely take the pushchair with me, but it's something I used to have to think about not that long ago!). The place was obviously very family friendly and the kids were given colouring in packs once we were seated which included a jigsaw and puzzle book.
The staff were great with the kids and managed to diffuse a situation with the littlest who was very insistent that she wanted the drink that her big brother had (they were exactly the same, but she was refusing to listen to reason!).
I ordered the BBQ Garlic Bread to start and then the Cajun Chicken Melt with mashed potatoes for main. R and my dad had the Chicken Louisiana Skins followed by the Spicy Sausage Calzone; Auntie Ali & Jo also had the potato skins but chose a burger for their main course - Italiano Burger for Ali and the BBQ for Jo.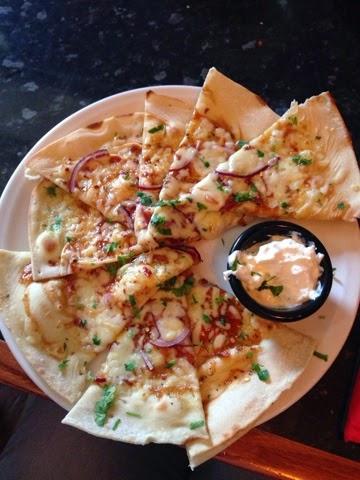 BBQ Garlic Bread
The garlic bread I had to start was amazing - pizza bread covered in BBQ sauce and topped with grated cheese, red onion and chilli flakes served with a sour cream dip. It totally hit the spot and tasted great. There was plenty of topping too which I hadn't anticipated. I was told that the loaded potato skins had a bit of a spicy kick (that'll be the Louisiana hot sauce then!) and were really good.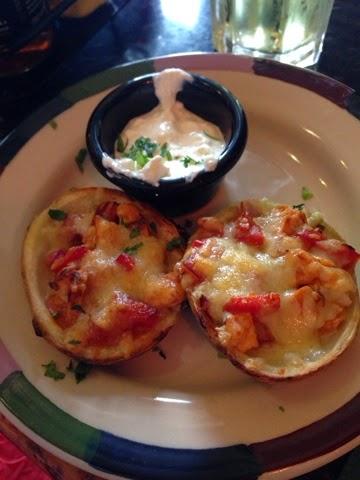 Chicken Louisiana Skins
The Kid's (£4.25) and Junior's Menu (£7.75) includes a main meal, dessert and unlimited soft drinks. Plenty of options to choose from including burgers, sausages, pizza and pasta. The eldest had spaghetti bolognese and the littlest decided to have fish fingers and chips. The kids meals also come with an optional side of vegetables, salad or baked beans free of charge and there are free apples available for the kids too.
I really appreciated the fact that the kids meals were brought out as soon as they were ready. So the kids started eating as we had our starters, and then they were able to finish their food and continue colouring in and drawing whilst we had our mains.
The portion sizes were really good. I was amazed at how much food there was and it was good value for money at £11.95 for 2 courses. (You can top this up to three courses for an additional £2.50.)
The calzone was "really good" and the tomato sauce "excellent". The portion size was immense! The burger was good ("not the most amazing burger I've ever had, but it was good") and the chips were nice, hot and crispy.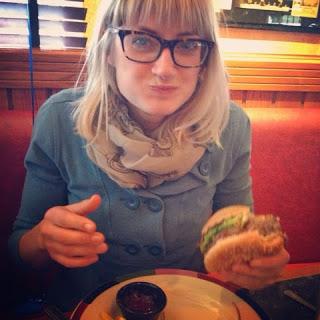 Auntie Ali and her massive burger! Yum :-)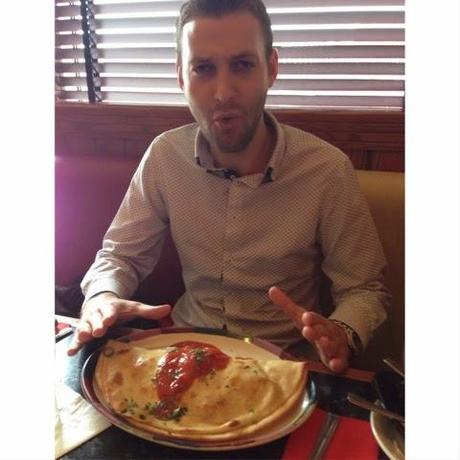 I love this photo - check out the calzone!!!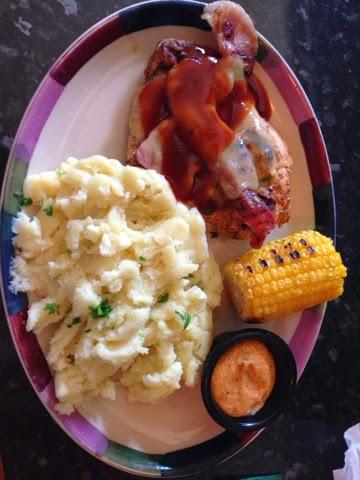 Cajun Chicken Melt with mashed potato, sweetcorn and dip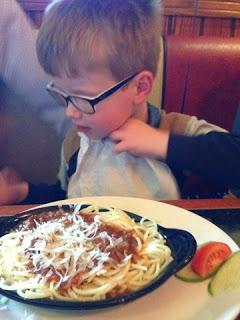 "I never get messy so I don't need that"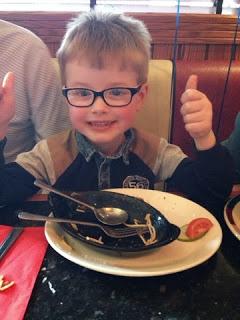 Thumbs up & clean plates!!
I asked the eldest for a review of his spaghetti and he said it was "amazing and awesome".
If the starter and main wasn't enough, we all decided to have a pudding too! The peanut butter sundae was recommended by our waiter Yotis and it didn't disappoint. It was the highlight for Auntie Ali, who even turned the glass upside down to get out every last drop! In amongst the ice cream and peanut butter were chewy brownie pieces. Mmmmm... it was soooo good! My dad & Jo had the raspberry sorbet and it was "typically Italian. Refreshing and a nice consistency".
The eldest had the Chocolate Pancake and demolished it too. Where does he put it all!!
Knowing that it was R's birthday and the littlest's birthday, the waiting staff put on the birthday music and brought out their desserts with candles on the top. It was a lovely touch and despite the fact that R was a bit mortified and the littlest was a bit unsure of the attention, I thought it was brilliant!!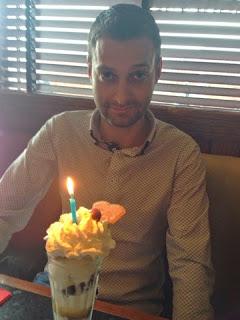 Slightly mortified at the attention!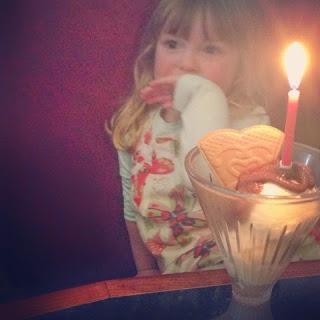 Littlest was a bit unsure of the birthday ice cream sundae & refused to smile for a pic!
I checked out the toilets and they were clean and there was even a teach yourself Italian playing over the speakers. "An educational experience, although not long enough to learn anything if you're only in there for two shakes" (thanks dad, TMI!).
We were loving the music, especially Nanny Jo... King of the Road, Moon River, Hey Baby... but it was maybe a teeny bit loud as we were under one of the speakers. 
Overall we had an amazing lunch and I'll definitely go back to Frankie & Benny's. The menu is good value for money and there's something there for everyone. The restaurant is ideal for families and well worth a visit if you're out at Glasgow Fort.
We received a complimentary lunch in exchange for this review. As always, opinions are honest and are my own.