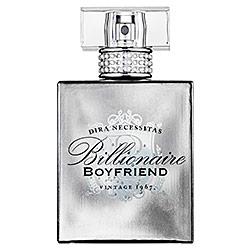 Actress Kate Walsh has launched Billionaire Boyfriend, the followup to her 2010 debut fragrance, Boyfriend.
Private jets, superyachts, diamonds and roulette. It's a dream of wealth and glamour where every whim is indulged. Imagine a vintage convertible whisking you down the Amalfi Coast to an elegant dinner, taking you to a time and place where a gentleman would never let a lady pay. Live the fantasy with Billionaire Boyfriend.
Indulgent and sensual, this floral-oriental fragrance opens with succulent fruit notes, including bergamot and tangerine wrapped in lush green leaves. The scent intoxicates as it blooms into a provocative blend of black jasmine, velvet orchid, gardenia, and a touch of patchouli flower. As the fragrance dries down, it exudes an addictive, sensual, warmth and a sense of wealth with hints of vetiver, cistus, sandalwood, and golden amber.
Even the Billionaire bottle is one of a kind: opulent, rare, crafted, and disruptively beautiful. Inspired by a special reserve champagne bottle, the antiqued platinum-mirrored finish exemplifies the wealth and glamour of an old world atelier.
Notes:
Bergamot, Tangerine, Green Lush Leaf, Black Jasmine, Black Velvet Orchid, Gardenia, Patchouli Flower, Amber, Cistus, Vetiver, Sandalwood.
Style:
Decadent. Opulent. Intoxicating.