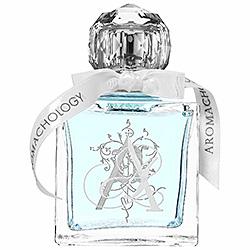 This fresh scent reminds you of your most loved surroundings, clean, crisp, and sunny. Like linens drying in the breeze, you move through life with ease, comfort, and a distinctly carefree attitude. With a true love for nature and the outdoors, you try to spend as much time being active enjoying life's greatest natural delights. Your love for nature inspires your scent, a clean-smelling compilation of citrus, aquatic, and fresh notes.
 
Notes:
White Tea, Bergamot, Green Tea, Cardamom, Lemon Balm, Precious Woods.
Style:
Fresh. Carefree. Addictive.
Inspired by the powerful relationship between fragrance and personality, AROMACHOLOGY is a unique concept that brings together the art and science of scent. Each one of AROMACHOLOGY's fragrances has a specific character, allowing you to convey your identity proudly and aromatically. Whether you are a Totally Edible Gourmand or Bold & Brisk Woodsy, AROMACHOLOGY lets you customize your scent to match your fragrant personality.