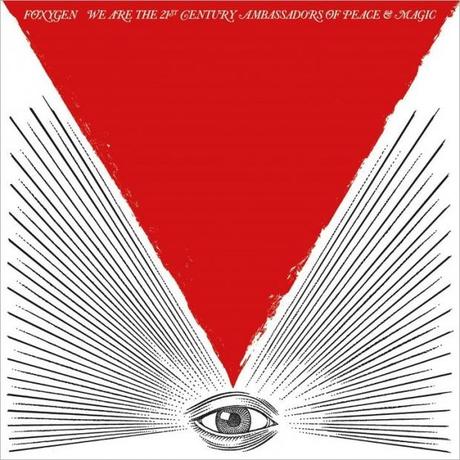 Foxygen's We Are the 21st Century Ambassadors of Peace & Magic is a nostalgic head trip. For me, this album feels like elementary school and riding in the back seat of my parents' 1989 Honda Accord. I listen to it, and I am eight years old, lying on my bedroom floor listeningto oldies radio and reading my mom's Reader's Digests.
Foxygen openly invokes rock and roll icons of the '60s and '70s, and this would be blasé or even blasphemous except they're doing it very, very well. Combining all the elements I love about rock's dawning era, the record is pure psychedelic pop rock at its finest. Foxygen may embody the hippie golden age, but like true ambassadors of the 21st century, they're adding modern sensibilities and goofball wit to make their music a true creature of now.
"On Blue Mountain" is a slow-fast-slow ode to easy, peaceful living. My mind immediately pulled its Elvis file at the chorus — the first line sounds like a page out of "Suspicious Minds." It later takes a creepy turn at around three minutes when lead singer Sam France whines, "On the mountain God will save you, put the pieces back together," backed by a child choir. It's slightly unsettling, but definitely interesting and my favorite track of the nine. "San Francisco" is all sunshine and sass with a back and forth chorus to die for. France sweetly sings, "I left my love in San Francisco," to which a girl responds, "That's okay, I was bored anyway." This is probably their most accessible track to date, and impossible to dislike. "Shuggie" is probably the most standout/most critically acclaimed track and one of the best break-up songs I've ever heard. We can hear his puppy-dog cringe when he sings, "You don't love me, that's news to me," then suddenly picks himself up and injects the upbeat "but if you believe in yourself, you can free your soul." It ends with, "I'm happy if she's happy," dancing into the fade-out. The title track is pure Jagger swagger magic proving they deserve their titles as ambassadors. The last track, "Oh No," has a Beatles-esque vibe that becomes increasingly noisier and messier until, all at once, the noise stops, and France sings along with only a piano, closing the record with my favorite line: "If you believe in love, everything you see is love. So try to be what God wants you to be and say that I love you again." Perfection.
Every band has musical influences, but the thing that makes Foxygen stand out is their ability not only draw directly from their influences but to use them as a foundation on which to build something unique and ultimately complementary. The album title makes sense — it's as if the rock gods designated them as ambassadors to the electronic generation of the 21st century. This album is only their sophomore effort, and both members of the duo are just 22 years old, but already we sense that they're more gathered and headed in a more decided direction than their last release, Take the Kids Off Broadway (which was only a few months ago!). I can't wait to see where they end up going from here. Peace, magic, and Foxygen.