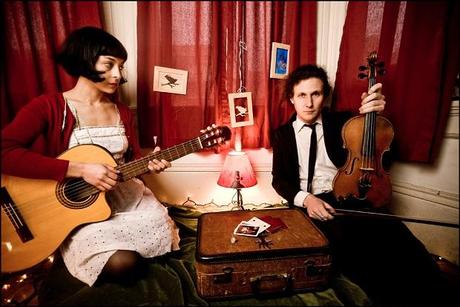 When Laura Weinbach got into trouble as a child, her father's punishment involved listening to his jazz mix-tapes and learning to imitate them before being released to play. Her father's love for jazz legends like Billie Holiday and Astrid Gilberto are obvious in the dreamy jive tones that inhabit Weinbach's vocals and the moody vibes that emanate from her songwriting.
San Francisco's Foxtails Brigade is an enticing fusion of chamber pop, folk and jazz, a sound that delicately delivers a bold impression. Weinbach spins both whimsical and sentimental tales that first woo us, then invite us to dance. We, of course, oblige and saunter to the floor, lights dimmed, transitioning from slow to fast movements.
Everything Foxtails Brigade sings about has a romantic air, but especially their latest single, a cover of Jon Brion's "Little Person". Weinbach croons of the loneliness that comes from being "just a little person, one person is a sea of many little people" hoping to meet that "second little person…somewhere maybe someday." Her daydream smirk is audible when she sings what she imagines her special somebody will say upon their finally meeting: "I know you. You're the one I've waited for. Let's have some fun." Simple, romantic, and the sexy guitar riff that follows is the sound of falling in love — mysterious, intriguing, intoxicating.
The orchestral pop magic of Foxtails Brigade is about to win you over. A word of advice: let it. Listen to "Little Person" above, then check out their most recent full-length, Time Is Passed, both of which pair nicely with a glass of full-bodied red wine and space enough to sway.