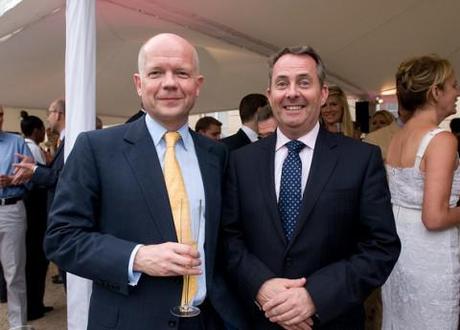 Liam Fox and William Hague. Photo credit: Financial Times photos, http://flic.kr/p/9XDbjs
The Liam Fox saga rumbles on, as the Defence Secretary continues to fend off allegations surrounding his relationship with Adam Werritty. While the main issue remains the suggestion that Fox blurred the boundaries between personal and professional, there are also rumours and innuendo surrounding the exact nature of their relationship.
Forty meetings in sixteen months. The Ministry of Defence has released a list of the meetings that took place between Liam Fox and Adam Werritty. The two men apparently met at least 40 times over a 16 month period. James Kirkup reported for The Telegraph that an interim report into the Defence Secretary's conduct found Fox had behaved "inappropriately" by giving Werritty access to senior Defence officials and allowing his friend details of his ministerial travel plans.
Rumours. Writing for The First Post, Nigel Horne compared the rumours in the British press surrounding Fox and Werritty's relationship with those that emerged when Foreign Secretary William Hague was found to have shared a hotel room with an adviser. "Why did the Defence Secretary not think to himself – in the light of the trouble Hague had encountered – 'Hmmm, maybe young Adam should stop trailing after me, handing out business cards saying he's my adviser…'?" he asked. Horne suggested that Fox refuses to engage with "'gay' insinuations" in the media because he "doesn't really give a toss what people think of him."
Disgraceful. James Chapman at The Daily Mail condemned the "tide of insinuation and innuendo" surrounding Fox. Chapman suggested the Defence Secretary may well hold onto his Cabinet post, in part because David Cameron prefers not to "offer up ministerial scalps when confronted with media firestorms."
Not the best man? In The Independent, Susie Rushton considered the dynamic between Fox and Werritty in light of the fact that the latter was the best man at the Defence Secretary's wedding. "To the casual observer, one very much more powerful groom and a younger best man in thrall to the former makes a slightly strange arrangement", she wrote. Rushton also asked whether the "lingering unspoken bond" between best man and groom was what caused Fox to behave unprofessionally.
Bad friend? Writing on a Telegraph blog, Daniel Knowles suggested that Werritty may have abused his friendship with the Defence Secretary without Fox realising. Knowles also predicted that "every hack in Westminster" will be looking into Werritty's finances. Writing for The Guardian, Nick Hopkins and Rupert Neate pointed out that Werritty has yet to comment on the allegations, "steering clear of the spotlight as his best friend has taken all the flak." However, The Guardian also reported that Werritty will eventually have to answer questions, as he will be interviewed as part of the official inquiry.