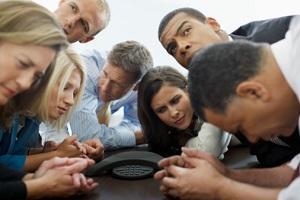 Did you know that your speakerphone might be ruining the sound quality of your conference based on simple things like volume and design? If you want your conferences flawlessly clear, here are some things to be aware of when using your speakerphone.
Speakerphones pick up every noise.
A speakerphone is one of the most sensitive pieces of equipment out there and it will pick up any noise there is in its range. Every rustle of paper, every tap on the keyboard, and every closing of a door is an opportunity for your conference call to be disrupted. If you aren't taking the meeting alone, encourage everyone to keep their shuffling and typing to a minimum, and always mute your line (*6) if you're not speaking.
Not all speakerphones work the same.
If your speakerphone is "half-duplex" it means that while the person is using the speakerphone is talking, he cannot hear anything else going on. He may miss a request to wait for a moment or even the announcement that the conference call is over. Alleviate this by upgrading your current phones to what is called as "full-duplex". This allows for the transmission of audio through the speaker (heard) and microphone (spoken) at the same time.
Placement matters.
In a large or medium sized room, your conference phone should be centered on the table. This allows the microphone to pick up most of the speakers in the room. If there are issues with people at the ends of the table being heard, you may need to shuffle seats around. Make sure that you mute the phone while you do that so that people don't hear the quick game of musical chairs or if you choose to slide the speakerphone across the table.
Sometimes, it's hard to hear you.
When we do operator answered conferences, we sometimes experience an issue in hearing the participants clearly as they give us their name and information. Most of the time, this is due to the position of the speakerphone or the volume of the microphone. If the device is set to far away from you, you've rolled out of range, or the microphone is too low, you can't be heard clearly. If we can't hear you to gather your information, then you likely won't be heard on the conference call, which may lead to your important question or comment being missed.
To anticipate some of these problems, set up a run through with some co-workers or one us of here at AccuConference. We'll be happy to help and if you have any feedback during your call give us a call right away at 800.989.9239 so we can help you.