This is the weekend edition of TheMarioBlog and will be updated as needed. The next blog post is Monday, Feb. 29.
Mark Zuckerberg: "Vast majority of content will be video"

Speaking in Barcelona this week, Facebook's Mark Zuckerberg appeared quite reassured that it is video that will provide us with a lot of the news we will consume.  He thinks the success of video is because it is unfiltered, pure, raw and more intimate.
In his own words:
"Most of the content 10 years ago was text, and then photos, and now it's quickly becoming videos. I just think that we're going to be in a world a few years from now where the vast majority of the content that people consume online will be video."

For more:
http://www.fastcompany.com/3057024/fast-feed/mark-zuckerberg-soon-the-majority-of-content-we-consume-will-be-video?utm_source=API+Need+to+Know+newsletter&utm_campaign=e34d1a92c2-Need_to_Know_February_23_20162_23_2016&utm_medium=email&utm_term=0_e3bf78af04-e34d1a92c2-31701869
Of related interest:
http://blog.wan-ifra.org/2016/02/22/approach-video-with-an-eye-to-quality-not-quantity

Approach video with an eye to quality, not quantity
Video expert Magnus Zaar pulls no punches when characterising today's state of video: "Publishers may have a grand plan when it comes to online video, but when competition hits and video ratings match neither high hopes nor investments, publishers quickly turn to a short-sighted view of their video operations…"
A guest speaker at my Columbia class this past week was Quartz'  Priya Ganapati, editor and director of platform products.  She was involved from the start with the creation of Quartz' new iPhone app, which uses text messaging to present the news.
Priya is convinced that we are likely to see more use of messaging, including through What's App, to present summaries of news to those mobile users who are forever connected.  Already in Europe, South America and Asia, publishing houses are experimenting with text messaging, especially for sports and business news.
"We are likely to see more of this, including from the major newspapers, " Priya told the class.
I recommend the Quartz iPhone app: I enjoy using it and it is selective with its alerts, so the user is not receiving an avalanche of text messages at all times.  The app is so polite that it even asks if there is Anything Else? that the user wants.
My blog post about Quartz iPhone App:
http://garciamedia.com/blog/quarks_phone_app_chatting_the_news——
It's no secret that in the era of at a glance journalism and the journalism of everywhereness, it is essential to know when the audience is tuned in.  It is not just knowing when to post an update of news stories, but also crucial to know what the perfect time is to post a specific story.  Editors are beginning to catch up with this and making efforts to get to know more about the habits of their readers.
For example, while checking the news first thing in the morning is a habit for a lot of people, a lot of news organizations aren't posting stories until after many readers have already moved on with their days, writes Anjanette Delgado. When analyzing traffic at Gannett's Salinas Californian newsroom, Delgado says they found stories were going up just as their traffic dropped off. In response, editors rearranged their schedules to get stories out ahead of the morning spike, and the newsroom saw its web traffic double in less than two years as a result.
Delgado created a Post and Readership Comparison chart, which showed when readers were on their site and when they published. "The trend was dramatic — we published just as everyone was leaving. Very little of what was on our site for the morning news habit — the 8 a.m. spike — was new; most had been written the afternoon before on a print deadline," she said.

For more:
http://mediashift.org/2016/02/feeding-the-morning-habit-to-increase-web-traffic/?utm_source=API+Need+to+Know+newsletter&utm_campaign=ea868d3ebd-Need_to_Know_February_19_20162_19_2016&utm_medium=email&utm_term=0_e3bf78af04-ea868d3ebd-31701869
Los Angeles Times and a new digital-first hub
Another major newspaper undergoing newsroom reorganization to catch up with the winds of mobile first transformation.  Now it is the Los Angeles Times that will undergo a reorganization, centered around a "news and enterprise hub." In that "hub," editors from across departments will identify the day's most important stories and determine how to present those stories online. A separate desk will focus on the next day's print edition. The idea behind the LA Times' hub model is getting staff to think digital-first, something Tribune is particularly concerned with as all of its newspapers have fewer than 90,000 digital-only subscribers.
I am surprised that the LA Times is a little late getting to this point in its newsroom reorganization, but it is never too late.  Mobile use is expediting things in newsrooms that were not quick to react to the digital-first trend.  It is unquestionable that users' preference for getting information via mobile devices is transforming how newsrooms operate, how the agenda of the day runs and redefining the concept of what is news and when to publish it.
For more:
http://www.laobserved.com/archive/2016/02/next_step_into_digital_ne.php?utm_source=API+NeEded+to+Know+newsletter&utm_campaign=1cbd4056d7-Need_to_Know_February_17_20162_17_2016&utm_medium=email&utm_term=0_e3bf78af04-1cbd4056d7-31701869
It's a big SND win for Andy Rossback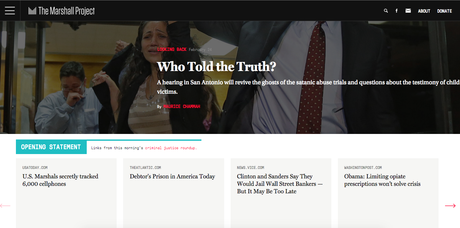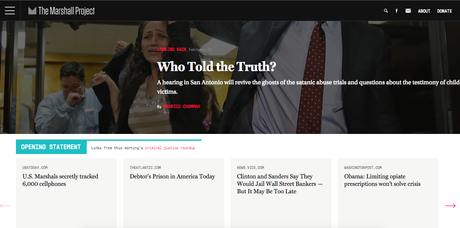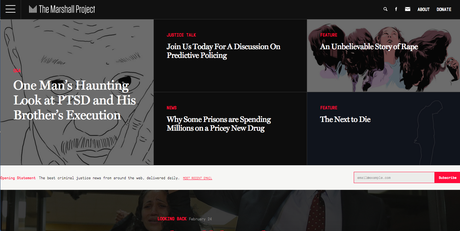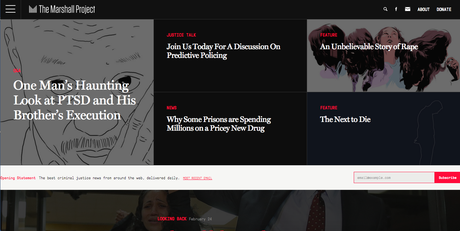 The portfolio of our Garcia Media art director, Andy Rossback, has won a Silver Award at the recent Society of News Design SND 37 competition.
Andy's work with The Marshall Project, where he is editorial designer, was selected for the five World's Best Digital Design.SND Digital: Five short-listed for World's Best Digital Design, with the judges stating:
"The Marshall Project: A stunning example of visual language and explanation in the service of important enterprise journalism, the Marshall Project never feels anything less than urgent."
Andy joined Garcia Media as art director in 2015 and has already  been engaged in several of our current projects.
In addition to the World's Best shortlist, The Marshall Project and Andy personally received five awards: 
— Silver Medal for The Next to Die
— Silver Medal for Andy Rossback's portfolio
— Award of Excellence for The Next to Die
— Award of Excellence for An Unbelievable Story of Rape
— Award of Excellence for Willie Horton Revisited
We spend a lot of time thinking about the right tools for the job, a lot of that is due to Gabriel Dance?s careful editing and also supported by the custom in-house content management system envisioned by Ivar Vong. It cannot be left out that morel, a design agency, collaborated with our group on the initial look of the site, which is a gift that keeps on giving. This is exciting validation for the entire team's work, effective design requires great journalism. 

Here's a Q&A with Andy from SND with more explanation about their site: 
http://www.snd.org/2015/02/the-guts-andy-rossback-on-designing-the-marshall-project/
We congratulate Andy and the talented team of The Marshall Project on this achievement.
TheMarioBlog post # 2107
Please enable JavaScript to view the
comments powered by Disqus.
comments powered by

Disqus