I love horses. They are beautiful, powerful creatures that have influenced our lives both as beasts of burden and as sporting heroes.
Shire horses, with their huge backs and magnificent hooves were used as work-horses, hauling the dray wagons that delivered barrels of ale to our pubs. Their bridles and straps were embellished with brasses, making them a joyful sight on our cobbled streets.
A day at the races is a very typical British event. It may interest you to know that Blackpool is the only English seaside resort that doesn't have a race track. Perhaps as well, because I would spend all my free time at a race track if I could. The strength and speed of a thoroughbred fascinates me know much.
I have only been to three race meetings: The first was York – a day of fun with Mum and Dad and a chance for a teenager to dress up and hob-nob with spectators.Then as a young woman, I was invited by friends who worked for Bass Leisure to Cheltenham on Gold Cup day. It was such an exciting event – I didn't have much money and started with a couple of each-way bets, steadily turning my small stake into a reasonable sum.
I went down to the paddock amid a huge crowd. When I asked what was going on, I was told that her majesty the Queen Mother was viewing her horse in the ring. I am only small and couldn't see her over their heads. I decided to try from another angle – dropping to my knees and am happy to report that I have seen the Queen Mother's ankles.
When the crowd retired to the stands, I remained watching the horse parade. One horse suddenly walked straight towards me. It leaned over the fence and tupped me with its nose. I took this as a sign and put all my winnings on that horse – on the nose of course.The horse romped home with Jonjo O'Neil onboard and I was able to buy dinner for everyone on the way home.
My most recent horse racing day was spent at Cartmell. It was a wonderful family day out – we took a picnic, the sun shone and we won a few quid too. I recommend Cartmell races -it is tremendous fun with stalls and fairground rides so the kids will love it.
In the 1980's my sister and her husband rescued a retired point-to-pointer from the knacker's yard. Tockwith stood 18 hands tall – a magnificent chestnut, gentle giant. Unfortunately, one day he wandered into a ditch and became stuck. Local farmers and villagers joined in efforts to get hoist him out and much to their relief hr wasn't injured. My sister had two small sons at the time and on one occasion looked out of her window to see one of them standing under the horse. Tockwith didn't move a muscle – such a lovely creature.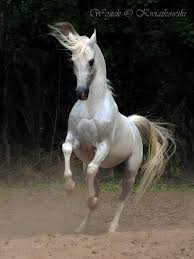 When my own children were growing up – a traveling show came to a local field. Spirit of the Horse was a celebration of equine agility. We loved the show and were invited to meet the horses in their stables later. I was moved to write this poem;
Equilibrium
Chestnut and cream,
Linear. Lean.
You canter around the sand-filled circle
In perfect, harmonious step.
Hooves pound the ground in unison
Energy ripples from neck to tail.
You flick and show delighted control,
Soft flowing mane sweeps as you turn natural.
Switch reverse.
Then rearing on muscular haunches
To prance like a ballerina.
So poised. So balanced.
Perfection in motion, keeping rhythm and time,
Your unbridled power and gentle music meld.
Later when I venture close,
You bow your head, nose to mine,
To meet my eyes with deep brown intelligence.
I feel the reins of my spirit release
And in that fleeting moment of sweet breath
It too runs free.
Thanks for reading. Adele
Email This
BlogThis!
Share to Twitter
Share to Facebook
Reactions: