Four Fountains Spa Experience /Four Fountains De-Stress Spa Experience
Hello Everyone,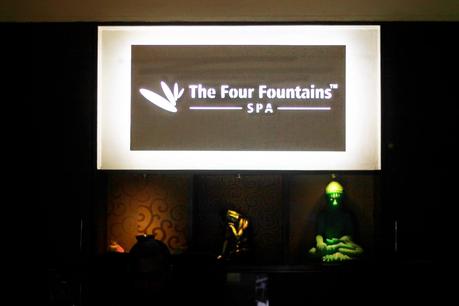 Four Fountains De-Stress Spa
Four Fountains De Stress Spa has been on my list from quite a long time and since I saw all of the posts about their   amazing service I simply had to visit them. When I was invited to try out their service I was quite excited. I visited
Four Fountains De-Stress Spa in Kolkata
specifically their Shakespeare Sarani/Theatre Road branch last Thursday and here's the whole
Experience in Details
. 
The appointment was fixed at 11Am and I was very courteously reminded about my appointment while I was sweating out at the Gym before the session . . To which I confirmed .
Now for The Experience :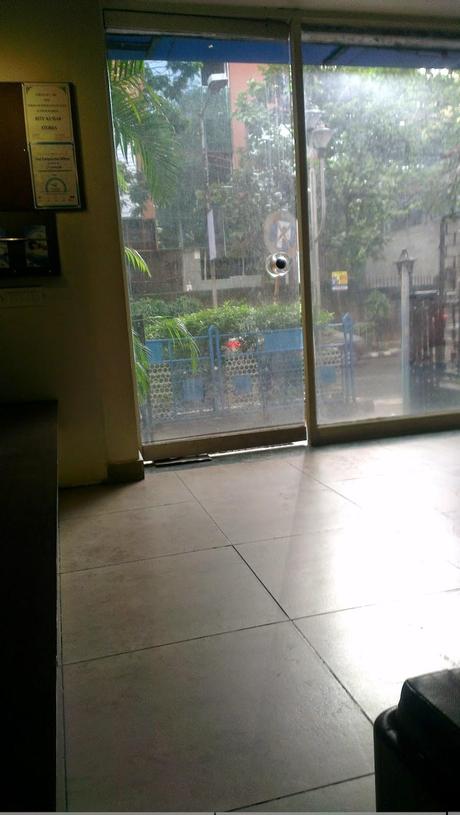 View from The Front Desk
I was courteously greeted at the front desk upon arrival . After the first few minutes and after settling down a bit I was handed a small glass of orange squash and a wet wipe. It was so humid that day and these two were like a welcome boon. I was introduced to the In-house Doctor and consultant Dr. Manisha Jha who asked me a few questions to assess my stress levels. I answered them and they asked me to choose the service I was interested in. They have four sections for their service which are
De-Stressing(Massages to help Relax Your Body ) , Detoxification (To cleanse your Body through Wraps and Scrubs ), Beauty (Different Beauty treatments including facials and Polishing)
, and
Immunity
(For middle aged people who suffer from Immunity deficiency and diseases)
. I was looking forward to a Beauty treatment rather than a De-Stressing one.  I was suggested the
Rejuvenating Facial
to rejuvenate my tired and seemingly dull skin. As I have Combination skin I was suggested this therapy by the expert at the desk .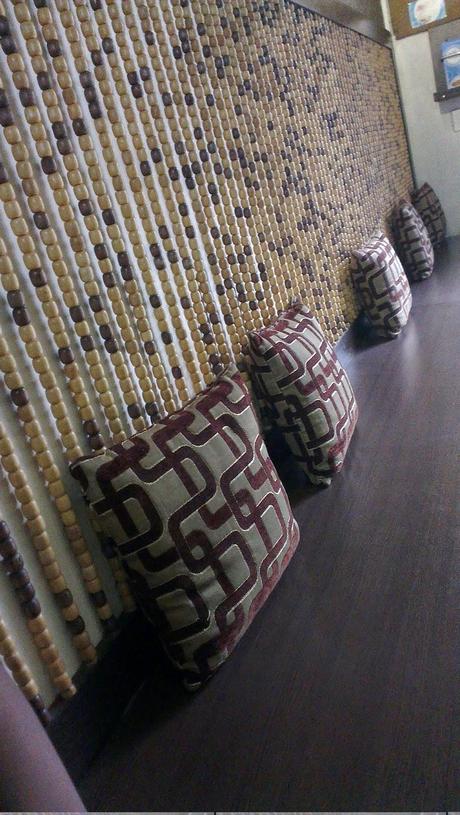 The Front Desk with Massaging Beads
I was introduced to my therapist who was from Guwahati (
My grandma spent her Childhood in Guwahati
) . She was very sweet and well mannered and took me to my therapy room upstairs. The therapy room was a small room with a massage table and dimmed lights. She showed me the disposable garments and asked me to call her as soon as I was ready.
(Please Excuse the Image Quality I Took Them On My Smartphone)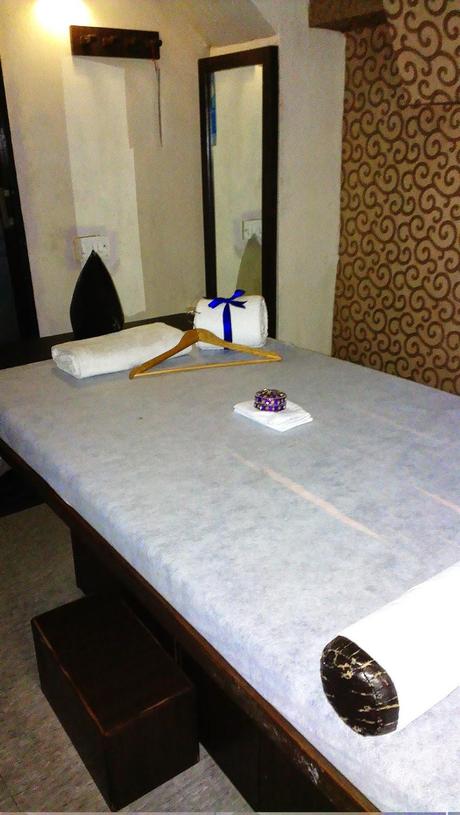 The Therapy Room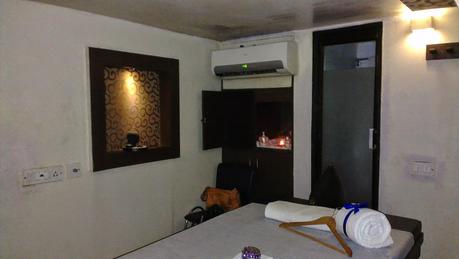 The Therapy Room 

I took a few pictures (
I was a bit too busy with taking pictures and the therapist came up with the facial products.
) I insisted that she came back a few moments later so that I could finally change.
I got changed and was requested to lay down.I was covered with a disposable sheet to keep me warm and to make me feel at ease. The lights were dimmed and she gently cleansed my face with warm water and cotton pads. My eyes were covered with warm wet cotton pads which felt quite soothing.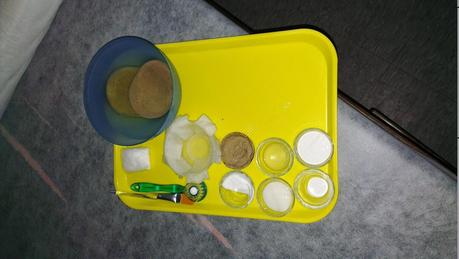 The Products Used For The Facial
The ritual consisted of a
Cleansing pack
which was accompanied with a soothing massage. I don't know what was in it but my whole face kind of burned due to the cleanser. It was quite strong but not unbearable. I told my therapist about it and she assured me that it may sting a bit and asked if I wanted to stop the ritual.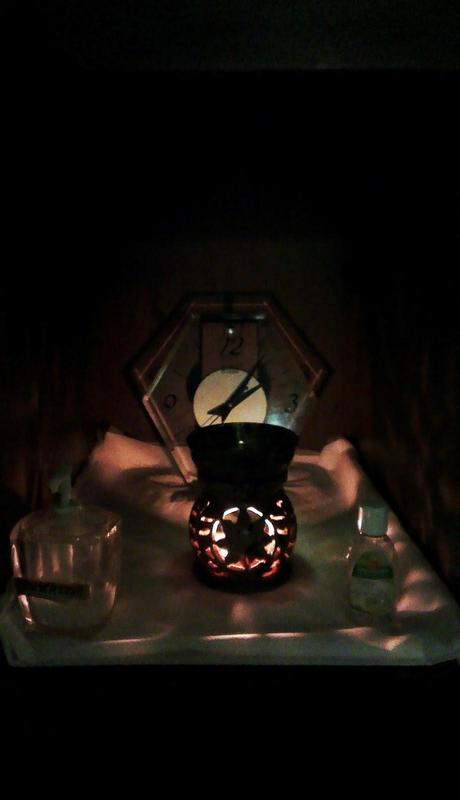 The Dimmed Light
I asked her to wait a bit and the burning feeling stopped after a few minutes. I was then followed up with the next step which was
a Scrub
. A scrub was applied on my face and neck . The scrub had small granules which gently cleansed my face and the therapist slowly massaged my face and neck.
After this
steam
was applied on my face to open up the pores and a face pack was applied following the steam session . The pack was applied for 10-15 minutes and after application the therapist gave me a foot massage to help relax my feet . She left the room dimming the lights and I was about to doze off . .(I think I dozed off for a few minutes :P )  .The therapist arrived after a while and took the mask off and applied a
moisturizer
on my face. I was not sure of the brand but it was nice.
Overall the after effects were a brightened face and a relaxed mood. I did get a few zits and my skin a day after and felt a slight burning sensation during the facial but I was quite happy. The session was continued with a glass of water at the end.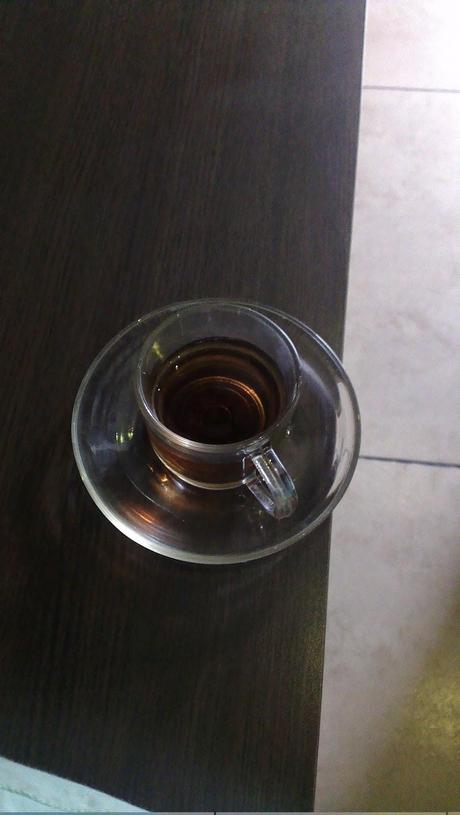 The Herbal Tea
I was asked to join Dr. Manisha at the front desk who gave me a Feedback form to fill in. I was later on handed a Prescription Booklet and she suggested me a few future therapies and exercises to keep me motivated and a few other suggestions. I was also provided with a cup of Herbal tea which was too bitter for my preference. But I enjoyed it as it felt good somehow . I was provided a soothing balm to help me sleep at night and give me mental peace by Dr. Manisha which she promised at the start of the session and a few booklets.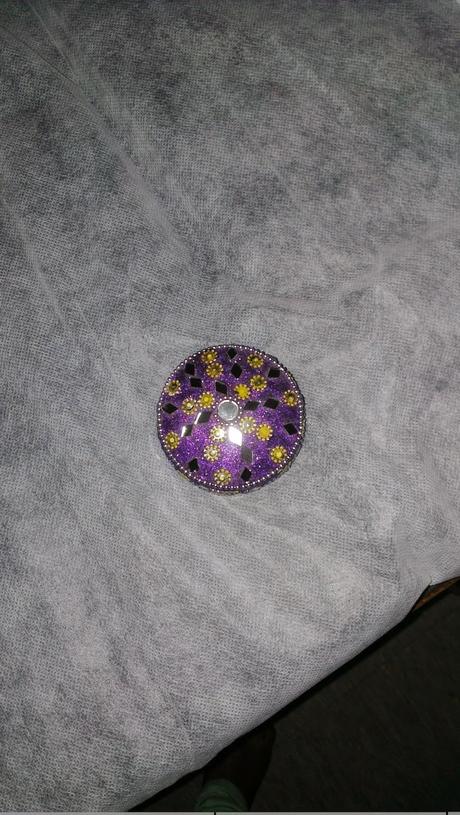 Small Box To keep jewelry (This caught my Attention )
All in all I have loved my visit to Four Fountains De Stress Spa and have enjoyed my Spa session. After 5 days of the visit the Glow is still there and I can see my skin feeling fresh and rejuvenated.
A Quick Overview :
Location : 
It's very easy to reach the Spa which is just opposite of Rani Birla Girls College (on Shakespeare Sarani )  and is on the main road itself.
Staff and Therapists: 
Excellent, helpful and courteous (They were very polite and Helpful ). Only same gender therapists are provided for the sessions making it a great relief for those who are hesitant . The therapists are courteous and polite and ask you whether pressure is to your liking or not.
Cleanliness : 
Very Well maintained though the room i was allotted needs a bit of renovation. . The bed had Disposable sheets and Undergarments were freshly laid and disposed after the session. The therapist used Hand Sanitizer before starting the session.
Result : 
Quite nice. I really liked the subtle glow the facial provided me. Until now it's there and I feel my skin brightened and rejuvenated.
Price: 
Affordable and Budget Friendly. The Four Fountains De Stress Spa has made Spa sessions very pocket friendly with an option of going in for a Yearly Membership where you can pay 12000 and get 50% off on all services on weekdays . The amount used up gets debited from the card , and the best part it can be shared by you, your spouse, your bestie and family too.  nice nah ????
There is also an option to get a Half Yearly Membership too at the price of 6000 rupees.
Most of the services there are in the range of 700 to 1600 and like that which is very affordable and quite affordable than most Spas. 
Lastly :
This Picture is Taken Just a Few Moments After The Facial :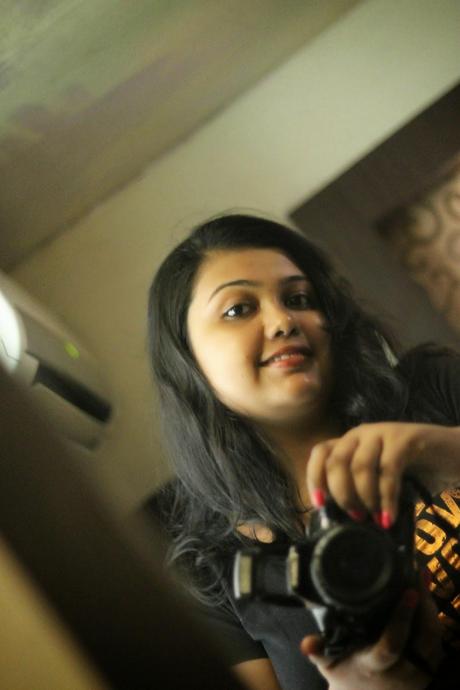 After Facial Selfie ( No Makeup )
So Girls and Guys who want to indulge in a bit of De-Stressing , De-Toxifivation and Beauty treatments can easily drop in at The Four Fountains De Stress Spa in Kolkata to get your body and mind the much needed rejuvenation .
To Book an appointment  For the Four Fountains Se-Stress Spa Shakespeare Sarani/Theater Road  Branch you may call on the number below: 
(033) -40086666 / 40038888
There is another Branch of the Spa at Salt Lake where you may book an appointment by calling on the number below: 
(033)-40652222/ 40673333
I ended the day with a trip to the Quest Mall with my Cousin and his Wife follwed by a Sound sleep. A day well spent . ..Don't you think???
I really hope to see you soon and I will surely be back with a few more exciting reviews. Please let me know in the comments below whether you have more queries about Four Fountains Spa and I will be more than happy to help you . .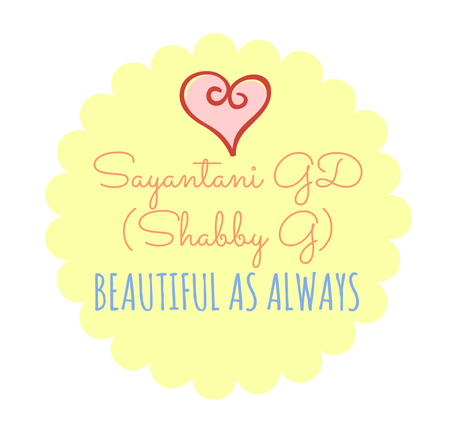 Facebook | Twitter | Bloglovin | Networked Blog