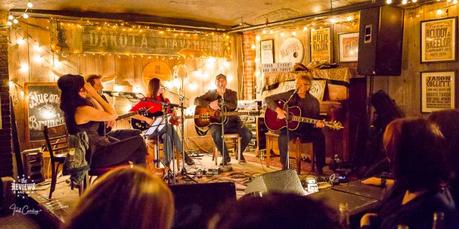 Thursday night in Toronto we visited one of our favourite venues to listen to the stories and songs of five songwriters at Four Chords and the Truth. And while we were there, we were reminded of something...
As much as we love and believe in the power of concerts and big crowds, the quiet and ability to hear a pin drop while honest, raw, and vulnerable stories are sung is magical, and powerful on a whole other level.
Four Chords and the Truth is a quarterly event, bringing songwriters to the beautiful stage of The Dakota Tavern to share their stories, sing their songs, and offer an up close and personal connection to the music lovers in the audience. On Thursday night we had the pleasure and honour of watching and listening as Marc Jordan, Tim Hicks, Andrea Ramolo, Bill Bell, Damhnait Doyle, and special guests, shared the warmly lit stage and put their musical hearts on their sleeves for more than two hours of stripped down, vulnerable, and honest storytelling and singing.
Sadly, the event creator, and regular host of Four Chords and the Truth, Andrea England was sick and unable to stay on stage Thursday night, but in her place Damhnait Doyle shepherded us all through three rounds of songs and stories and laughs.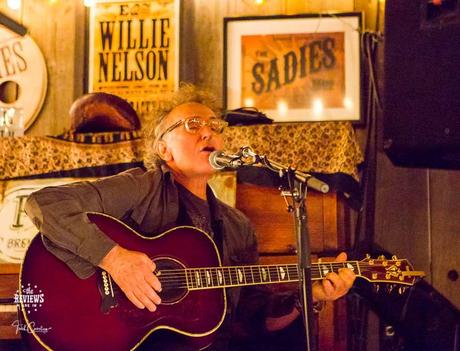 1 - Marc Jordan: This
Marc Jordan, he of more than 40 years in the music industry as a singer and songwriter, proved himself to be a charming, funny, and captivating storyteller on Thursday night.
And as he played This, released by Rod Stewart in 1995, Jordan proved himself to be a strong, steady, and present performer, connecting with the quiet audience from start to finish.
2 - Tim Hicks: Forever Rebels
Hicks' current single, Forever Rebels symbolizes his own journey to making his dreams come true, and passes that message and wish onto listeners as well.
The Dakota Tavern may only be a couple of miles from the stage Tim Hicks played covers on for years, but Thursday night he was a long way from there as the Canadian country music star with 10 Top 10 singles and fans from coast to coast.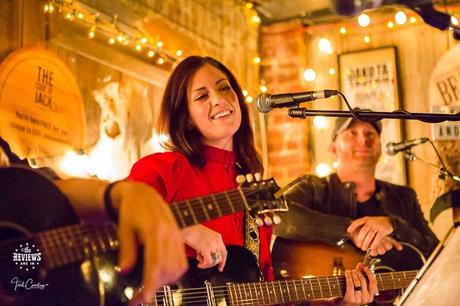 3 - Andrea Ramolo: Hey, Hey, Hey
Andrea was raw and honest in her music and storytelling at Four Chords and the Truth. She talked about the depression that followed a breakup, and the friends and songwriting that helped her get through it.
And she shared songs that took her back to that place, which is as strong a thing as anyone can do - revisiting a dark time, in a room full of strangers, and opening yourself up to feel those things all over again.
4 - Bill Bell w/ Justin Nozuka: Soulless Man
Bill Bell has a heck of a resume, playing, writing, and performing with big names all over Canada and the world. And on Thursday night he was humble and gracious, sharing the stage on each of his songs.
Bell and Justin Nozuka played a vulnerable and almost heartbreaking version of Soulless Man that filled the room with feelings and sound as if the two were connected.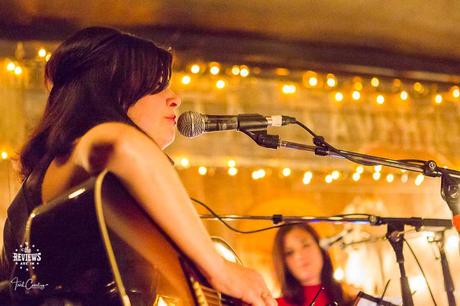 5 - Damhnait Doyle: Better Life
As undeniably powerful as any other song of the night, Better Life offers a powerful account of the sacrifice, life long impact, and love that goes into the decision to offer a baby up for adoption to give it a better chance in life.
It felt real and true and didn't sugarcoat the reasons, feelings, or reality of the situation, and that's what made it matter.
6 - Marc Jordan: Marina Del Rey
Released in 1978, Marina Del Rey sits near the beginning of Marc's career, and his life in California. He told The Dakota Tavern crowd about driving down the highway when he arrived on the US west coast, and remembering the sign and the rest is musical history.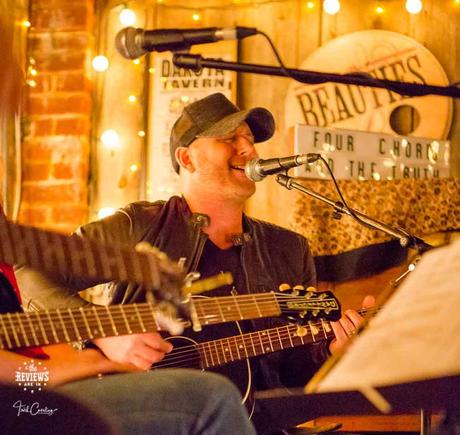 7 - Tim Hicks: Worry About Me
Tim Hicks told the crowd that he and Deric Ruttan wrote this song for that one dude who always says he doesn't like country music. There's one at every show and every party, and so they decided to put something together for that guy.
The song is fun, we dug it, and it would fit well in Hicks catalog.
8 - Andrea Ramolo: You're Everywhere
Andrea told the room that You're Everywhere was a 10 minute write, which isn't her usual process. But, in that post-breakup time she told us all about earlier, there came a moment when everything needed to flood out - and it did, and it became this song.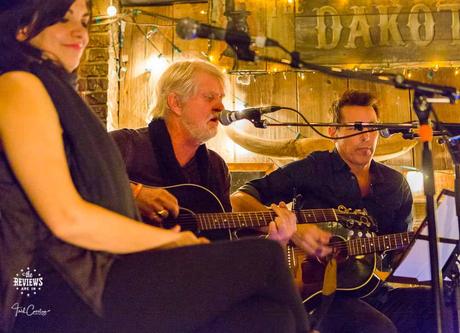 9 - Bill Bell w/ Tom Cochrane: Crawl
Canadian legend Tom Cochrane joined Bill Bell on his second song of the night, and the duo played and sang Crawl, the story of a 17 year old girl who was abused and down... until she got away.
To see the room find another level of attention to give when Cochrane sat down was amazing, and to be just a few feet away as Bill and Tom sang the 1996 single from Ragged Ass Road was something special.
10 - Damhnait Doyle: I Can See You
Written in direct response to the current state of affairs in the public when it comes to politics, particularly in the United States, Doyle's new song is unafraid to take shots at those who hide behind their religion as a way to avoid taking a stand and doing what's right.
It's poignant and relevant and well done.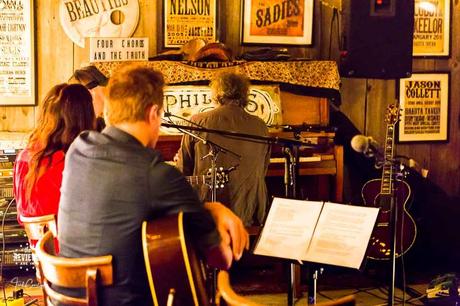 11 - Marc Jordan: Little Lambs
If you want your heart to break, if you want to think about the most horrible thing, if (in the words of Damhnait Doyle) you want to hear the best song you wish would end half way through, Little Lambs is for you.
This dagger to the heart tells the story of orphans, taken to and taken in by the church, and hurt and abused and forgotten... it will hurt you if you're open to it.
12 - Tim Hicks: Throw A Ball
Hicks told a story about his son being upset that daddy wrote songs for mommy and his sister, but not him, so the country star sat down with him in mind. The result is a sweet song about playing catch with his dad, and his son, connecting his life between generations and experiences.
Truthfully, it broke me. As a baseball kid who lost my dad last year, and as a guy who is getting ready to be a first time dad next year, Throw A Ball hit me hard, in the saddest and sweetest and most emotional way of the night.
13 - Andrea Ramolo: Hold Me
In an attempt to lighten the mood from her previous songs, Andrea played Hold Me, a song inspired by the music of the 50s and 60s, and written as she was pushing herself to explore major keys in her creative process. It's still sharing the same sadness... but it's a different vibe, and it works.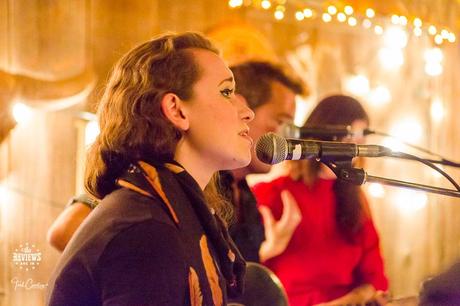 14 - Bill Bell w/ Justine Giles: I Won't Give Up
On his final song of the night, Bill Bell welcomed Justine Giles to the stage, and the duo sang a duetted rendition of Jason Mraz's 2012 hit, I Won't Give Up.
The pair sang the song well, with heart and feeling, and let it all hang out as they took their turns, and came together. A hit is a hit is a hit. Remember that.
15 - Marc Jordan w/ everyone: Rhythm Of My Heart
The most well-known song of the night came last, as Damhnait Doyle gave up her last turn to let Marc Jordan play the piano and sing, as everyone else joined in.
Written by Marc and John Capek, originally recorded in 1986 by René Shuman, and made popular by Rod Stewart in 1991, this song is a classic, and the entire room knew the chorus. The singing wasn't loud and obnoxious, but you could see the lips moving, and you could feel the love in the room.
It was a great end to a great evening. And we will be back for the next round of Four Chords and the Truth.
More Photos from Four Chords and the Truth - November 23, 2017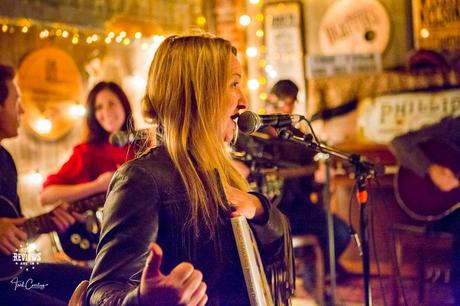 Andrea England, Four Chords and the Truth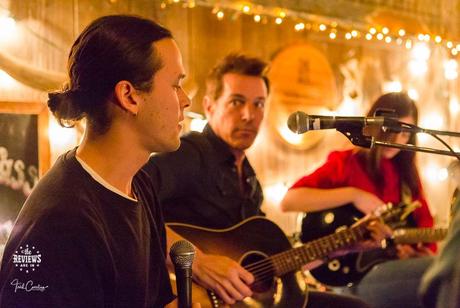 Justin Nozuka with Bill Bell