Welcome to part one of the Foundation group read being hosted by Carl of Stainless Steel Droppings.  Click here to see what the others have to say about Foundation.  This is the cover of my first copy of Foundation.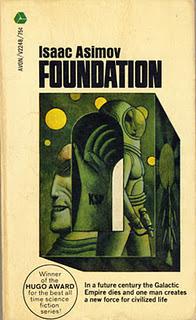 For the purpose of satisfying curiosity, is this your first time reading Foundation or have you read it before?
I think this is my third time to read it.  The original Foundation Trilogy (Foundation, Foundation and Empire, Second Foundation) was one of my early science fiction reading experiences way back in the early to middle 1970s.  It helped cement Asimov as one of my favorite authors.  I don't hide the fact that he is still one of my favorites.  One of my fondest memories is listening to a lecture the "Good Doctor" gave at Penn State.
For those who have read it before, how has it held up to your memory/feelings about previous reads?
I still enjoy this book.  Each time I read it I discover something different.
What are your thoughts about the structure of the novel thus far? (I am referring to the brief glimpses of different parts of the history of the Foundation with big time gaps between events in the novel)
The structure is somewhat unique in science fiction.  Asimov, as he has stated in many different articles, was inspired by reading Edward Gibbon's "The Decline and Fall of the Roman Empire".  Out of necessity, when you are writing the history of an empire, the author has to write about numerous periods over a long time span.  By copying this structure, Asimov gives the reader the impression that they are reading about the history of an empire.  If he followed one character per book, the first book would have been a five novel series.  It would make for a decompressed story that would not have the same impact.  Another writer commented, in a work on Asimov, that he was also influenced by reading the Old Testament books of the Bible.  Many parallels can be drawn between the Foundation story and the journey of the Israelites in the Old Testament.  The structure of the story also supports this idea.
What, if anything, is holding your interest thus far, what are you enjoying about Foundation?
I am fascinated by how the individuals of each era are going to handle each crisis.  Another part that holds my interest is what is revealed by Hari Seldon each time he appears.
What, if anything, are you not enjoying about Foundation?
Nothing.  This is one of my favorite books.
You may have covered this in answering the other questions, but if not, what are your thoughts/feelings about the Galactic Empire.  Is it a practical thing to have a galaxy spanning government? Can you imagine such a thing and do you think it would work?
I find it hard to believe that it could function.  It seems like something that would collapse under it's own weight.  On the other hand, they are interesting to read about.  Some of the others I have enjoyed reading are the Terran Empire of the Dominic Flandry series, the Empire of the Dune books, E. E. "Doc" Smith's empires, and a pulp like favorite of mine was the Arkonide Imperium of Perry Rhodan fame.
What are your thoughts on Hardin's creation of a religious system in which to house scientific ideas and technology while keeping the users of that science and technology in the dark?
This was a stroke of genius.  What a perfect way to build in a system to protect yourself.  A similar system was used during the Dark Ages in Europe.