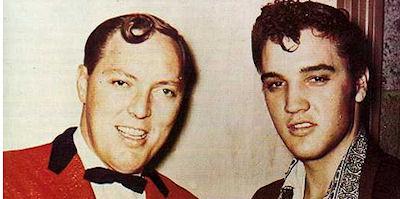 image credit
On February 26, 1955, a Cleveland deejay named Tommy Edwards became the first music promoter to book a Southern singing sensation named Elvis Presley north of the Mason-Dixon line. The event was the Hillbilly Jamboree at Cleveland's Circle Theater. When Tommy Edwards snapped a photo of young Elvis shaking Bill Haley's hand, he had no idea the Southern sensation was about to overthrow rock 'n' roll.
Between 1955 and 1960, this amateur photographer shot every
major music star
there was - from Chuck Berry to Johnny Cash - and his slides have just been unearthed and published in a new book.
(thanks Lisa)
The Presurfer