What is FORS?

The Freight Operators Recognition Scheme, or FORS, is a voluntary funded certification scheme aimed at ensuring that fleet operators work lawfully and to best practice.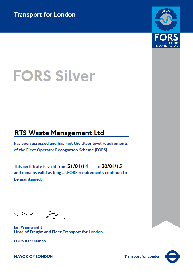 RTS Waste have been part of FORS Bronze for more than a year and have finally joined the elite group of no more than 19 companies to achieve SILVER Status. This certificate joins our list of accreditations showing our commitment to being a high quality waste management provider.
Transport Manager, Ralph Sheridan, has worked hard to attain the certification for RTS Waste Management. "It was hard work but we got there"
Stand Out from the Crowd

Transport For London (TfL) says " FORS make companies stand out from the crowd and prove to current prospective customers that you work to standards above the legal minimum."
FORS has a fundamental best practice ethos which we follow. Our drivers are given as much training as possible and is key to safety of our staff and all road users including cyclists and our customer service levels.
The performance data is helping the company to improve its operational resources and in turn is cost effective to the business. The benefits to the fuel usage and running of the fleet is significant to the environmental consideration running our business.
For example 30% of fleet costs can come from Fuel Usage, with benchmarking and FORS tool kits there were new practices put in place and so far RTS has demonstrated  saving money and improve efficiency at the same time. 
Relevant sites you may find interesting:
TFL Transport for London