INTERVIEWS65  people and businesses with professional athletes. With Thuzio you are not just booking an opportunity for yourself or your business, you are booking an experience.
Whether he is helping create a great story for someone, promoting a brand, or sealing a big business deal, he has learned some great business lessons, on and off the field, that he wants to share with other entrepreneurs.
Q:
Please tell us a little bit about your company – what is Thuzio all about?
 Thuzio is an online platform that connects the public (consumers and businesses) with professional athletes for personal experiences and promotional/corporate opportunities.
What makes Thuzio unique is the emphasis on the consumer experience. We make it easy to book more than 1,400 athletes online by providing clear pricing and handling all of the communications, payments and logistics with talent. We also enable talent to reach the public through our online platform, choose the types of experiences they would like to provide and do it where and when it is convenient to them.
Q:
Can you tell us a little bit about your background and how you started your company?
Thuzio has been a great opportunity to combine my experience of being a professional athlete in New York City with what I studied at the University of Virginia (Information Management Systems).
The demand for many of the experiences provided through Thuzio has always been there, but there was no marketplace in existence. There wasn't a portal where people could see who was available for what activities and at what price points. We have created that marketplace by partnering with players and (in the case of many current players) through their agents who see us as partners, as opposed to competition.
Q:
Please tell us a little about the transition from being a Pro athlete to entrepreneurship.
Being a professional athlete takes years of dedication, self-motivation and sacrifice, but at the end of the day, you need a good support system to make it work. You find many of the same similarities venturing out into the business world.
Just like on the football field, there are no shortcuts. You need the same drive and accountability Monday through Friday that you need on Sunday in the NFL.
Q:
What are some of the projects you are working on right now?
What aren't I working on? Thuzio is continuing to grow, now with 1,400+ athletes across nearly every sport. We recently introduced our $99 video messaging product, which allows fans to write a 650 character greeting for an athlete to record on video. Also, with the Super Bowl in the Tri-State area, we're seeing a tremendous corporate interest that should build throughout 2014.
Q:
What are your plans for the future, how do you plan to grow this company?
We're starting to see a real B2B push with our business, especially around major sporting events and trade shows. Thuzio is a fantastic consumer story, but we're an even better opportunity to seal a big business deal, or draw more attention to your brand's latest campaign.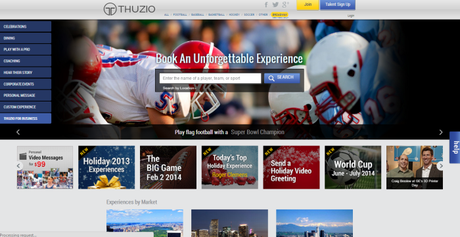 Q:
What are the top 3 mistakes you made starting this company and what did you learn from it?
As with any business, you have the supply side and a demand side. We've learned something from both.
First, we assumed that talent would be readily accessible. Even when going through their former teams, contact information was difficult to come by, so we couldn't fulfill the supply side early. You've got to build an expertise in accessing talent, mostly through referrals and partnering with the agencies.
The second would be starting with a smaller market by focusing on individual consumers and then making our way through corporate America. We ended up delaying our own growth early, but fortunately enough, we're an innovative company that has been able to parallel grow (B2B and B2C) at the same time.
Q:
Can you share some advice for newbie entrepreneurs, someone who's just starting out.
The most important thing is figure out what you don't know about business and partner with someone who does. In our case, I know sports, I know technology and have a passion for it. But I've never run a business before, which led me to partner with Mark Gerson, who had a firm sense of that side as an established entrepreneur.
Also, you'll want to hire people who are smarter than you and share the same passion for entrepreneurship. That way, you aren't caught micromanaging.
Q:
What was the best business advice you have ever received and who gave you this advice?
The best business advice came from my coaches, specifically Jim Fassel who basically said that 'you're going to fail, but don't let that ever stop you. Just figure out a way to do it better next time.'
He was talking about football, but it's very relatable to running a business.
Q:
What are the top 3 online tools and resources you're currently using to grow your company?
Like many startups, we're cloud-focused with an emphasis on social media. Salesforce is a brilliant tool, as is Google Drive, while Twitter is a great place to engage consumers and create conversation about what we're doing.
Q:
What's your definition of success?
Personal fulfillment. Believing in something and having your hard work show growth. It's not always winning.
Q:
What are three books you recommend entrepreneurs to read?
(1) The Lean Startup - by  Eric Ries
(2) Steve Jobs - by Walter Isaacson and specific to us, The Million Dollar Game, which focuses on the many business aspects of the Super Bowl.
(3) The Tipping Point – by Malcolm Gladwell is also a good one.
Q:
What is your favorite entrepreneurship quote?
"The price of success is hard work, dedication to the job at hand, and the determination that whether we win or lose, we have applied the best of ourselves to the task at hand." – Vince Lombardi.
Q:
How can our community get in touch with you?
Either by listening to The Morning Show, which I co-host on CBS Sports Radio, or on Twitter at @TikiBarber and @Thuzio.