Forgotten Frights is back! To celebrate the second anniversary of our annual horror movie roundup, every weekday for the next month we're going to sound off on a scary good sequel (or, if we want some cheese with our corn syrup, a schlocky second), ruminating on the returns of our favorite monsters, murderers, heroes (or heroines), creepies, crawlies, chills and thrills.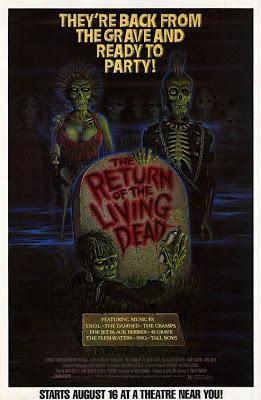 What came before it:
Night of the Living Dead
. I know what you're thinking: isn't
Dawn of the Dead
the sequel to
Night of the Living Dead?
Technically, yes. But that was George A. Romero's sequel. This is a darkly comedic adaptation of
Night
cowriter John Russo's completely separate
novel follow-up.

What remains:
Just a leftover bin of zombie bod. e in
Night of the Living Dead
reanimates the late guys and gals that come after the punk rock protagonists of this flick.

Why it deserves a second (and third, and fourth) chance:
It is the reason "Braaaaaains!" has become the official zombie manifesto. It was the first movie to have the walking dead chow down on gray matter and utter the now famous phrase.
It's highly self-aware, name dropping Night of the Living Dead right off the bat.
Unlike some of the Romero sequels, it's really quite funny, intentionally and unintentionally (those costumes!)
The soundtrack is stellar, featuring an hot mess of pop punk tracks that take the B plot to a whole other out-of-control level.
There is a wicked cemetery party scene in which one of the spiky-haired hipsters inexplicably strips down to her skivvies and dances atop a tomb. Talk about raising the dead! (Eww. I just wrote that.)
There are characters named Spider, Trash, Scuz, Suicide and Tarman. Oh, and two characters named Burt and Ernie (no relation to the ones on Sesame Street).
 It was written and directed by Dan O'Bannon, scribe of Alien and the original Total Recall.
The zombie puppet stuff was done by a former Muppeteer.