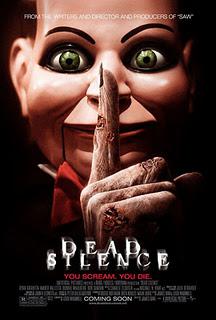 DEAD SILENCE (2007)

Section of the cinematic cemetery: Spooky, superbly special FX-ed supernatural surprises - for not-so-dummies
Cause of (premature) death: This creative outing from Saw creators James Wan and Leigh Whannell wasn't gory or torture porn-y enough for mainstream horror fans.  Featuring what looked like - at least from the trailers - a goofy ventriloquist dummy for a killer, most people (including myself) brushed it off as a cheesy should-have-gone-straight-to-DVD dud. It got terrible reviews (I believe it's at 20% on Rotten Tomatoes) and was pulled from theatres a little over two weeks after its wide release.
What its tombstone would read: Jason Stackhouse got haunted by a possessed doll, which may or may not be going on a long-awaited, tongue-snatching murderous rampage.

Why it should be revived: You know how you're secretly afraid of dummies? And you still have nightmares about that Goosebumps episode about them? Well multiple your fear of that kid's show by 1,000 and you'll get what you will feel watching the majority of Dead Silence. This genuine creepfest brings it in ways you don't even want to imagine, telling thetale of Mary Shaw, an old woman who may or may not have turned little kids into dolls. The ending, aside from being a fairly decent surprise, is absolutely horrifying, the theme song is the best kiddie-sung scare since "Freddy's Comin' For You" and the cinematography will make you question whether or not you're actually over your fear of the dark. Also, Donnie Wahlberg plays a cop!