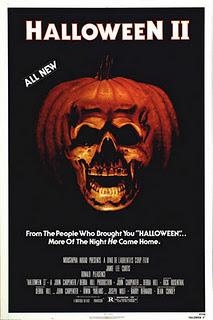 HALLOWEEN II (1981)
Section of the cinematic cemetery: Actually decent sequel to an unquestionable horror classic
Cause of (premature) death: While the movie did pretty well at the box office, it was sorta slaughtered by critics. They thought the amped up gore, sex and violence was not in keeping with the 1978 John Carpenter original, which like the Halloween series

'

 main madman, Michael Myers, takes off slowly but finds its own, sneaky way to get at you. I

'

m sure it didn

'

t help that there was a real-life murder controversy following the film

'

s release. Apparently, a young man killed an elderly couple after catching a screening of the Rick Rosenthal-directed sequel. 
What its tombstone would read: The rest of the night he came home.
Why it needs to be revived: This continuation of the first, undeniably standard-making slasher film, answers all wannabe Haddonsfield residents

'

 lingering questions, really setting the long-running series in motion. (This is where we learn

—

HALLOWEEN VIRGIN SPOILER ALERT!

—

that Laurie is Michael

'

s sister!) Kicking off with the final scene of the original and diving spray-painted William Shatner face into the POV-killer action, it

'

s a surprisingly flawless and frightening transitional flick that brings the simmering tension of the original to a near-scolding boil. Literally. At one point someone gets burned to death in an overly-heated hot tub!
OK, Halloween II

'

s kills are much more imaginative and gory, but they

'

re also simple enough to seem entirely possible and thus, chilling as all hell. Just try not to keep your stomach from flipping as a seemingly blinded Michael stabs the air aimlessly and nearly corners our favorite final girl. It might lose some points for introducing the inhuman, immortal side of Michael that made the next few mediocre sequels possible, but it gains them all back in killer Dr. Loomis quotes (Random dude on street: 

"

Is this some kind of joke? I

'

ve been trick-or-treated to death tonight!

"

 Loomis: 

"

You don't know what death is!

" and later,

 

"

I am talking about the real possibility that he

'

s still out there!

"

) and more quality face-off time with the scream queen herself, Jamie Lee.