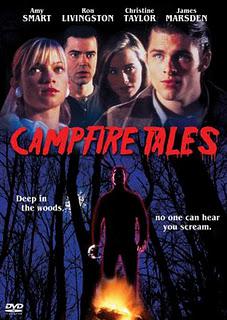 Photo: movieposterdb.com


CAMPFIRE TALES (1997)
Section of the cinematic cemetery: Slasher meets pedo-drama meets ghost story. Yeah, that

'

s right.
Cause of (premature) death: If you haven

'

t seen this film, it

'

s next to impossible to track down any info about it. It doesn

'

t even have a Rotten Tomatoes rating. Seriously.
What its tombstone would read: Urban legends came true.
Why it should be revived: It stars Amy Smart, James Marsden, Christine Taylor, Christopher Masterson and Ron Livingston, just as they were all beginning to make a name for themselves, and as far as horror acting goes, they were all pretty good. The idea of the story is brilliant and the execution is even better: four car-wrecked friends telling each other urban legends around a campfire. The pace is perfect and the suspense pays off big-time. Writing, directing and sound are well-done and make-up is more than believable. If you haven

'

t seen this yet, that

's a horror story in itself

.