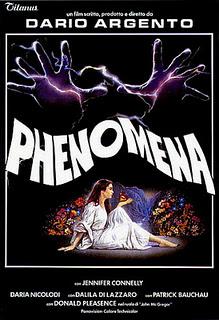 PHENOMENA (1985)
Section of the cinematic cemetery: Sleuth-style, bug-infested cult horror
Cause of premature death: Probably just plain out there-ness; this one is weird! In 1985, this Italian movie was renamed Creepers for its US distribution after it was heavily hacked, mostly to remove gore (30 minutes of it). In 1999, the original version of Phenomena was released on DVD in the US, and while not hugely popular, has enjoyed a cult following from Argento fans.
What its tombstone would read: Telepathic American teenager solves maniacal Swiss murders with the help of her invertebrate friends.
Why it should be revived: First thing's first. Yes, there is a fair amount of cheese in this movie: bad acting, stunted editing, unforgiveable dubbing, and oddly-placed narration. But stick with it because I promise this movie is a weird and wicked powerhouse of creep, and is widely considered amongst Argento's best.
A young Jennifer Connelly is an American boarding school student in the lonely mountains of Switzerland and quickly learns of a madman who's been killing girls in the woods near her school. As she befriends an entomology professor, she learns more about her innate powers of bug-communication and eventually persuades critters of the night to do her bidding for her.
You will be rewarded for enduring every bit of corn by way of a sleep-walking, animal-loving protagonist who solves grisly murders through insect telepathy, and a twisty-turny story infested with strange characters and plenty of grossness. This movie does the surreal dream sequence like no other, and has fantastic wooded chase scenes backed by scorching heavy metal and dark electronica. Plus, an over-the-top ending that will leave you like… "EWW!" "Huh?" and most-surprisingly, "Aww".



By Lindsay UlrichFilms I love: Hackers, His Girl Friday, Me Without You, Opening Night, Withnail and I