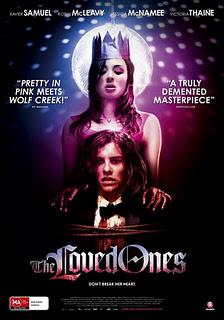 Photo: impaawards.com


THE LOVED ONES (2009)
Section of the cinematic cemetery: Pretty in Pink for torture porn addicts and homicidal daddy

'

s girls
Cause of (premature) death: While it got mega buzz from critics and festival-goers (it won the 2009 Midnight Madness People

'

s Choice Award at TIFF programme and maintains a 96% rating on Rotten Tomatoes), for some unknown but probably just prudish reason, this brutally awesome Australian film never got a mainstream North American release.
What its tombstone would read: Girl met brooding boy (from afar), asked him to the dance and, after he refused, kidnapped him, dressed him in a used tux, strapped him to a dining room chair and tried to drill (and slice and hammer) some sense into him.
Why it should be revived: Featuring candy-coloured satin dresses, crate paper streamers, carving knives and cannibalism, The Loved Ones pushes genre boundaries hard against its perverted pelvis and produces a beautiful bastard of a blast. Slow dancing between unadulterated teen fantasy, pitch black comedy and gore-heavy horror, this film has a little bit for everyone. (Well, everyone who can stomach watching someone get steaming hot water poured into a hole in their skull.) The villain (Lola, or 

"

Princess

"

 to her lurker dad) is a horrifyingly hilarious drug store glam monster. And the main setting

—

a makeshift trailer park living room prom

—

is a twisted teenage dream ripped straight from the pages of Tiger Beat Your BF to Death. This is what Carrie would have been like if she had licked the pig

'

s blood off her lips, tried to suck John Travolta off and then insisted on posing for pre-paid pictures.