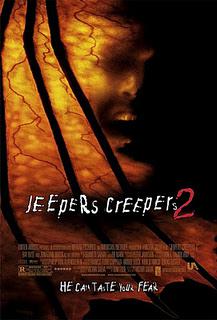 Photo: traileraddict.com


JEEPERS CREEPERS 2 (2003)
Section of the cinematic cemetery: Modern creature-feature meets iconic slasher series in the making


Cause of (premature) death: Although this film brought in more at the box office, in comparison to the original, it was pretty cheesy: the creeper was far less mysterious and, well, creepy; there was a lot less lead-up; and we all knew exactly what was going to happen. In short, critics knocked it because it was redundant.
What its tombstone would read: A school bus full of high school students stalled off a barren dusty road and the creeper

'

s 23-day feast hadn

'

t yet come to and end.


Why it should be revived: Because although it was somewhat redundant, what made is fresh was the campiness. The original of this series was brilliant. It was an interesting, chilling and well-done start to a potential new slasher-creature series. Rather than trying to outdo itself with the sequel, this film embraced a little cheese and made for a fresh addition, while keeping the storyline intact. On top of that, although the creeper

'

s actions were far less like a stalker in dark shadows, it seemed that two years of movie make-up magic goes a long way because this time around, he was even more disgusting. And like I said, you know what you

're

 expecting, but sometimes that

'

s what makes a slasher so great.