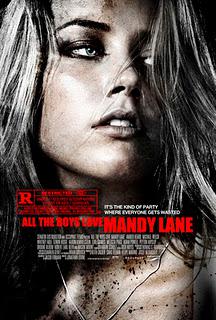 Photo: impaawards.com


ALL THE BOYS LOVE MANDY LANE (2006)
Section of the cinematic cemetery: High stakes high-school-party-in-the-woods slasher romance
Cause of (premature) death: This terribly unknown flick from 50/50 director Jonathan Levine has been through distribution hell and never come back. After being purchased by the Weinsteins and Dimension Films following its successful screening at TIFF (it was, of course, part of the Midnight Madness programme), pushed aside and then sold (post-Grindhouse) to Senator Entertainment US, which has since gone out of business, it never got an official North American release date - either in theatres or on DVD. Britain got a full-out theatrical release though. Buggers.

What its tombstone would read: Someone literally killed for a chance to get with local teenage hottie, buxom blonde Mandy Lane, during a weekend-long party at some rich kid's cottage.
Why it should be revived: This type of slasher movie is a rarity -- at least in America. In addition to being horrific at times (one dude gets a slice across both eyes), it's also beautiful, and not in a morbid way. It starts off like a modern Virgin Suicides, all dreamy and indie soundtrack-set, but quickly turns into a hot, dirt-covered homicidal mess. This contradictory tone magnifies each moment, making you feel like one of the film's lovesick, horny teenagers with too much booze in their system: disoriented yet wholly curious. But unlike many high school hook-ups, Mandy Lane actually goes all the way, giving you the actually-satisfying (and surprising!) slasher movie ending you've been waiting for. And if that's not enticing enough, the title character is played by the gorgeous Amber Heard (The Playboy Club) and the rest of the cast is made up of Joan of Arcadia and Crossroads rejects. Oh, and it features the Are You Afraid of the Dark? title font.