Forgotten Frights is back! To celebrate the second anniversary of our annual horror movie roundup, every weekday for the next month we're going to sound off on a scary good sequel (or, if we want some cheese with our corn syrup, a schlocky second), ruminating on the returns of our favorite monsters, murderers, heroes (or heroines), creepies, crawlies, chills and thrills.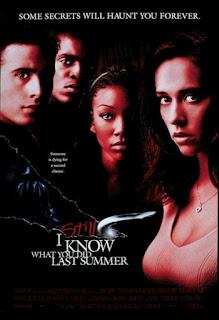 Photo: Mandalay Entertainment
I STILL KNOW WHAT YOU DID LAST  SUMMER


What came before it: 
I Know What You Did Last Summer,
the 1997 slasher following four teens who get stalked by a fisherman with a hook on his hand a year after possibly running over a guy and dumping his corpse in a nearby lake.
What remains:
The two surviving characters from the first film, Jennifer Love Hewitt's Julie James and Freddie Prinze Jr.'s Ray Bronson. Julie is the main focus again, as she continues to be haunted by all-knowing notes while on  - wait for it! - a free tropical vacay with her college bestie Karla (Brandy - yes, that one), Karla's boyfriend (Mehki Phifer) and more-than-a-friend Will (Matthew Settle). 
Why it deserves a second (or third, or fourth) chance: 
 First and foremost, John Hawkes plays Ray's fisherman friend in a few very brief, yet very memorable scenes including a car singalong to "Here I Go Again."
 Bill Cobbs plays the caretaker at the resort Julie and co. end up at, the vacay equivalent of the creepy janitor. Oh, and Jack Black is the dreadlocked stoner poolboy!
Aside from the inclusion of Julie, Ray and the raincoated ripper, the main plot is so far removed from the original. I mean that as a compliment. Instead of comparing it scene-by-scene to the first, you get caught up in the off-shore shenanigans, even when they go off the rails and final girl literal (see: Julie doing karaoke to "I Will Survive")
The death scenes are totally off the PG-13 hook (sorry), particularly the one involving Phifer and a kitchen ceiling tile. And sorry, Final Destination 3, I Still Know did the tanning bed thing first!
To build on that last one, the final twist is absolutely ridiculous in the most punderful of ways. And the final, final twist is even better.
This may be my inner J. Love-idolizing 9-year-old self talking, but the soundtrack is actually awesome. I'm referring to this masterwork specifically.
It's the reason why the awful/awesome straight-to-dvd sequel, I'll Always Know What You Did Last Summer exists.
Because, well, WHAT ARE YOU WAITING FOR?!