Forgotten Frights is back! To celebrate the second anniversary of our annual horror movie roundup, every weekday for the next month we're going to sound off on a scary good sequel (or, if we want some cheese with our corn syrup, a schlocky second), ruminating on the returns of our favorite monsters, murderers, heroes (or heroines), creepies, crawlies, chills and thrills.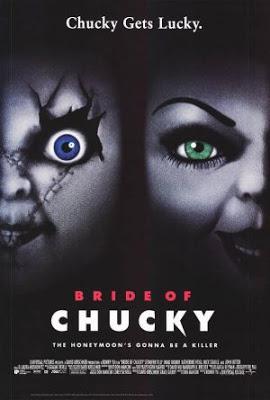 Photo: New Wave Creative
What came before it:
Child's Play
and two same-named sequels that followed. These are the flicks that introduced us to Chucky, that charmingly crass doll who went on a murderous rampage after being taken over by the spirit of serial killer Charles Lee Ray (Brad Dourif).
What remains:
Obviously Chucky's still very much alive and kicking. He's got a plastic partner in crime now though and her name is Tiffany (Jennifer Tilly). Tiff started out as a human too, but she turns toy after a Chucky-orchestrated bath electrocution incident sends her soul into a previously inanimate girl doll. 
Why it deserves a second (or third, or fourth) chance:
 It's really fun in a cheesy-and-it-knows-it way. The previous films were more serious, trying a little too hard to be scary when they clearly were not (they lost us all at killer doll). This one makes fun of that a bit, amping up the dark comedy and taking obscene advantage of the ridiculous concept. (Doll-on-doll sex scene anyone?)
Tilly is spot-on over-the-top as Tiffany. Her voice is as grating as Dourif's, if not more, and she delivers the practically unspeakable script with punny pith.
The supporting cast includes John Ritter (R.I.P.), Alexis Arquette and a young Katherine Heigl!
The initial Tiffany death scene is quite elaborate, yet also to the point. While Tilly is fun to watch as her human self, we really just want to see her all dolled up.
There is a makeover montage in which Tiffany tarts up her bland new bod, giving her doll self a dye job, extensions, whack-loads of make-up and a badass leather jacket. 
Director Ronny Yu would go on to do Freddy vs. Jason. Which I can't help but love. (Freddy's got Kelly Rowland's nose!)
Yu throws in a bunch of intentional nods to other modern horror classics like Hellraiser, Halloween, Nightmare on Elm St. and Friday the 13th. The "Crate" from Creepshow even makes a cameo!