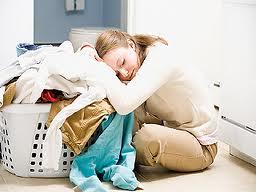 Spring is approaching, and with the promise of a new season thoughts invariably turn to new life and yes, Spring cleaning. But while it's standard issue to haul out the rugs and wash the curtains Spring is also a great time to clean up other aspects of your life. Unlike New Year's resolutions that are just made to be broken why not take the approach of this new season as the perfect opportunity to clean up your act?
Garage/Shed/Storage
Sure the everyday rooms often receive an overhaul but how often do you tackle the hidden corners of your home? Instead of going for a surface clean, take this time to look at all your stuff to decide what items really fit you any longer, both literally and figuratively. Let's face it, if you haven't seen a Size 6 in how many years isn't it just depressing to see those jeans hanging in the back corner of your closet? And even if you do lose the weight won't you want to celebrate by buying an updated wardrobe? Let them go and move on. Also go through old paperwork to see what can go but be sure to shred or burn anything that has pertinent info on it so as to prevent identity theft. And don't forget to look at the items in you home that need repair – once and for all, fix them or pitch them and open your home and life up to new things.
Computer
Ugh, have you ever really looked at your files in an objective manner? Maybe you're an Ace at organizing but if you're like the other 99% of the world you probably have 4 different copies of the same photo floating around and none of them properly titled or placed. Yes, it's tedious work but if you go over your computer files with a fine tooth comb and really do it right you will end up freeing so much time! Want to show your friend in California the great couch you wish you still had? Wouldn't it be terrific if with one click you could find it? Sift through, delete, archive, backup, and rename and place in ways that you can understand. It doesn't have to be the way your brother does it, it has to work for you but once done you will have a faster running computer and a leg up on any future file searches.
Financial
As you head toward tax day you're already getting up close and personal with your finances, but you can take it even further. Take this time to look at your past and present financial situation and then set goals for your future. Need professional help? Consider working with a financial advisor or even taking a class to help you make the next year even better than your last.
Emotional
Yep, there are emotional nooks and crannies that can stand to be looked at, as well. Whether it's negative patterns you'd like to overcome or letting go of people who simply aren't good for you, Spring is a good time to do it with acceptance and an open heart. It's not easy to really look at your life candidly and then make the needed changes, but it's a very brave thing to do and one that will ultimately benefit you. And when the air has that crisp nip and the flowers are coming out to say hello could there be a better time to believe in the promise of a better tomorrow? If you're struggling with something like drinking too much, choosing the wrong partners or just not being the person you want to be, do what you have to do to make it right by getting professional help when needed and keeping and caring for the good people in your life. And as difficult as it sounds, be willing and ready to let the toxic relationships go.
Life is good, or it can be. Celebrate the approach of a new season by tending the blooms you've got now and by planting the seeds for a healthier and happier tomorrow.
Written by Emily Rankin. Review your monthy expenses, paying too much for insurance? www.carinsurance.org.uk

The Real Supermum
USA
[email protected]