Hi everyone!
Unless you've been living under a rock you will have heard of Forever Living (the C9 cleanse is one of their best known products). Basically, the brand focuses on one main ingredient: Aloe Vera. My friend Kelly is a lifestyle coach who sells Forever Living products and she kindly came round to my house for a chinwag and to talk about some of their products.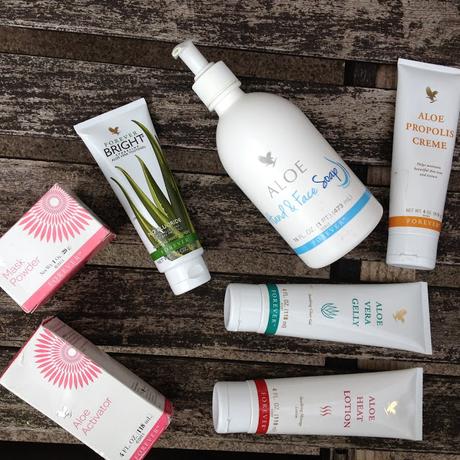 I'd heard a few times about the healing properties of Aloe Vera and never really paid it much attention. I knew it was good for Sunburn but in terms of general skincare and diet, I hadn't really given it a thought.
I was able to try out a lot of the products for myself over the course of two days to get a true feel for them.
Firstly, there's SO much I didn't know about Aloe! It has been known to help with everything from Burns, to Ulcers, Irritable Bowel Syndrome and Eczema. I literally had no idea about this and was pretty much sold when Kelly showed me some of the "before and after's" of using Aloe Vera. Some of the testimonials were unbelievable and I was intrigued to find out how the Forever Living range would work.
Forever Living only use ingredients that are absolutely necessary. The main ingredient of all of their products is 100% Aloe Vera Inner Leaf Gel. With all of the Forever Living products. you get a 60 day money back guarantee regardless of your reasoning for not liking the product.
Kelly explained all of the products to me and left me with them to let me make up my own mind on them. Here's what I thought of the products:
Aloe Heat Lotion
I don't know if any of you have smelled Germolene, but that is what this smells like - I love it. In terms of the actual product, a small amount goes a really long way.  This is ideal for soothing muscles and is pretty much the equivalent to deep heat. I had been doing some exercise and my stomach was aching so put some of this on. It worked a treat and really soothed the area.
Aloe Vera Gelly
This is my favorite product of them all! This is 100% pure stabilized Aloe Vera Gel. My eczema had really been playing up on my arms and scalp so when Kelly said this might help, I couldn't wait to put some on. It instantly soothed any irritation and after just two uses on my arms, I found the irritation was gone. Again, a really small amount goes a long way with this so definitely good value for money. Kelly said this can be used internally and externally so is good for Thrush or mouth ulcers. The Aloe Gelly is great for burns (including sun burn!) so this is definitely a first aid must have. Kelly says some people like to rub this on their temples to ease headaches too and because of it's scent, it's good for sinus congestion too.
Aloe Propolis Cream
If you haven't heard of Propolis, it comes from a Bee. Propolis is a sticky residue that has as many as 300 components giving it amazing health benefits including being anti cancerous, anti bacterial, anti fungal and studies have even shown it can help to prevent dental cavities! (For more information on Propolis, click here).  This product is ideal for evening the skintone and texture. This also contains vitamins A & E which we all know are vital in skincare. Kelly loves this as a makeup primer too! Just as a wee side note, this does contains Lanolin. (Read more about Lanolin).
Aloe Mask Powder & Activator
I am all for using a facemask and feeling like I'm in a spa and this definitely fits the bill. Basically, you mix one teaspoon of the aloe mask powder in a bowl with a teaspoon of the aloe activator. (or less, just be sure to use equal parts, you only need a very thin layer of this). This makes a really thick clay type mask that you MUST apply in upwards motions with a mask brush. Otherwise, you will drag your face downwards as this sets really quickly. Your skin will feel firm and thoroughly cleansed after using this.
Aloe Hand & Face Soap
You can get 900 pea sized pumps out of this product which is excellent value for money. Kelly says to use this sparingly as like all of the Forever Living Aloe products, a little goes a long way. Kelly even says this is great for irritation free shaving. Of course, this is great for washing your face and removing makeup too.
Aloe Toothgel
This toothpaste is more like a gel and does a really good job of cleaning your teeth. It is Flouride free so some people like to use this once a day and then their regular Flouride toothpaste for the remaining cleanse. Kids love this toothgel because it's green and tastes nice too. This is even good for using on pets too!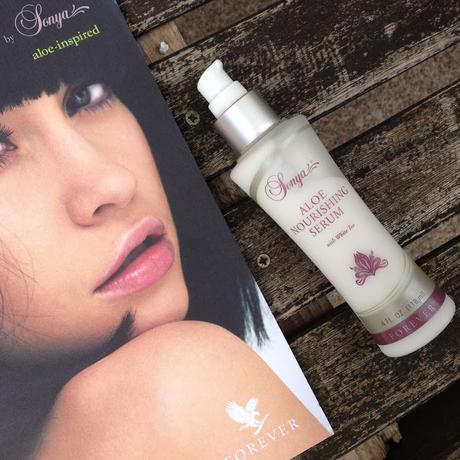 Sonya Aloe Nourishing Serum
The Sonya range from Forever Living has a whole host of makeup, skin and hair products. The Nourishing Serum is designed for your face and neck, leaving your skin feeling smooth and full of moisture. Kelly loves to use this on the ends of her hair and when I used it on the ends of my hair it felt incredible! My split ends seemed to just disappear without feeling heavy.
Aloe Juice, C9 & Vitamins
The brand also has aloe juice (known to help with IBS, digestion and inflammation), the famous C9 cleanse (a nine day cleanse based on Aloe) and vitamins to help with energy levels. Everything is natural and of course the main ingredient is the powerful Aloe Vera. Kelly is currently doing the C9 Cleanse herself and documenting the results to let people see how it works and let people know that she believes in the products so much. Visit Kelly's Facebook page here.
For more information and to order, visit Kelly by clicking HERE. Keep in mind there is a 60 day no quibble money back guarantee so you have nothing to loose!
Forever Living also offer Business opportunities with incredible Incentives. If this is something you'd be interested in finding out more about, click here.
Thank you so much to Kelly McVie for introducing me to the bran and for taking so much time to explain everything.
Let me know in the comments below if you have ever tried the products out and if you have any questions I'll be sure to ask the lovely Kelly to answer them!
xx