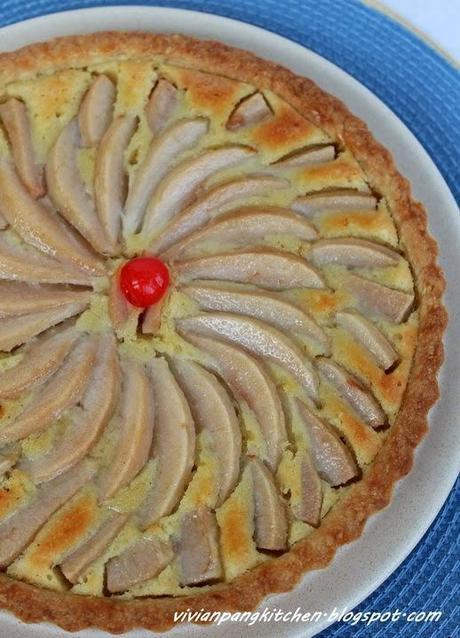 I baked this pie for several times. The crust is easy to prepare and do not need to pre-baked. After shape in tart pan, cover the surface with cling wrap and keep in fridge for several hours to chill. I kept mine overnight. From previous bake experience,

durian tarts

I found that chilled crust yields flaky crust. Once the filling is ready, take the chilled crust pan out from fridge and proceed with the fruits topping. Then bake straight away in preheated oven.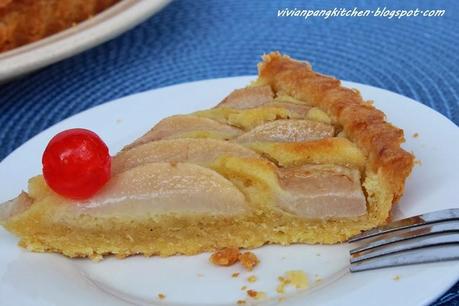 The original recipe is using apples but this time I used forrelle pear instead. It tastes just as good as apples. To create shinny looking to baked tart I glaze it with homemade clear syrup. It looks even better with icing sugar on top which I forgot. Nevertheless it tastes good.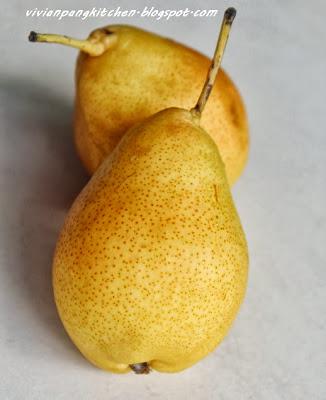 Forrelle Pears that I used


Adapted and slightly modified from Agnes Chang's Tasty Temptations, French Apple Pie
Bake in 9-inch removable tart pan
Forrelle Pear Pie
Ingredients:
~Pie crust
200g all-purpose flour
60g icing sugar
100g cold butter, diced
1 egg yolk
A teaspoon or more egg whites (if the crust is too dry)
~Filling
70g butter, room temperature
60g icing sugar
1 whole egg
70g ground almond
20g all-purpose flour
2 Forrelle pears, peeled, cored and cut into slices. (Keep in salt water to avoid oxidation or tuning dark. Pat with kitchen towel before used)
~Clear glaze
*refer recipe below
Methods:
1. In a mixing bowl, add in flour and icing sugar. Add the diced cold butter and rub with hand till form crumbs.
2. Add in the yolk and mix till blended. Check by gather the crumbs with hand. If easy to form into lumps means the dough is right. Only add in egg whites (a teaspoon at a time) if the dough is too dry.
3. Gently gather all the lumps into a ball. Do not knead as kneading will cause hard crust. Wrap the dough with cling wrap and rest in fridge at least 30 minutes.
4. Roll out the dough between cling wrap (for easy transfer) to a round shape, slightly bigger than 9-inch tart pan. Transfer the roll out dough into tart pan with the help of cling wrap. Remove the cling wrap, gently pressing dough to fit. With rolling pin trim excess dough flush with rim. Refrigerate until firm, about 1 hour before used (I kept mine overnight).
5. Prepare the filling. With a spatula mixing butter and icing sugar till combine. Add in egg and mix well. Then add in ground almond and flour. Again mix to combine.
6. Pour the filling into chilled crust. Arrange the pear slices on top. Bake in preheated oven at 180C for about 40 minutes.
7. Remove from oven and place the pan on wire rack to cool a bit (about 15 minutes) before unmould. Leave to cool completely before apply clear syrup.
Adapted from

Nasi Lemak lover

, make with half of the recipe
~Clear glaze
Ingredients:
¼ cup water
1/8 cup sugar
1/8 cup water
½ tablespoon tapioca starch or corn starch
Methods:
1. Add water and sugar in a small saucepan over medium heat, stir till sugar dissolved.
2. Mix tapioca starch with 1/8 cup water in another small mixing bowl.
3. Pour the tapioca mixture into the hot syrup and stir constantly. Allow the mixture to simmer for one to two minutes until it has thickened. Remove the pan from heat.
4. Set aside to cool in room temperature. Brush clear glaze on the fruits.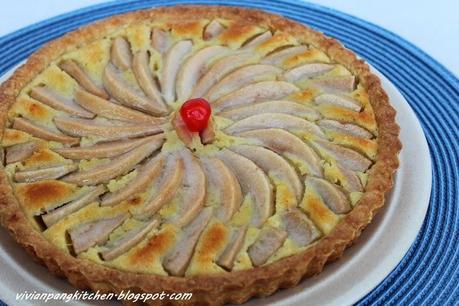 I'm submitting this post to :
Cook-Your-Books #5
 hosted by 
Kitchen Flavours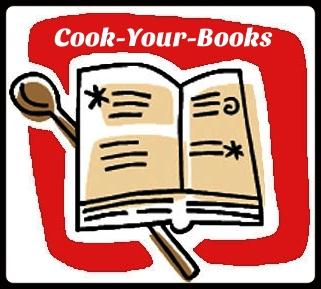 Made with Love Mondays hosted by Javelin Warrior's Cookin w/Luv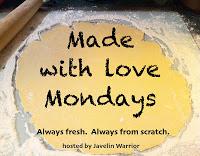 See Ya In The Gumbo hosted by Ms. enPlace