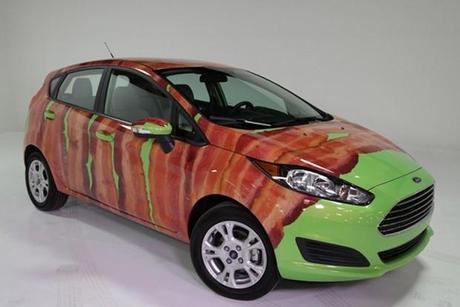 To celebrate the International Bacon Day, Ford unveiled this weird Ford Fiesta that has been wrapped with bacon. It's not real bacon though but it's still surprising that a world famous company like Ford went ahead and make this kind of a weird thing.
"It's no secret that bacon inspires a lot of passion, and that's what the Fiesta celebrates," said Liz Elser, Ford Fiesta marketing manager. "Our customers have a hunger for self-expression. Plus, it's just awesome to drive down the road in a piece of bacon."
These custom bacon exterior vinyl graphics were made by Ford Custom Graphics and are available online and any Fiesta owner can buy them to show off their bacon side. According to Examiner, the full body bacon make-over with installation costs $3,347 and $78.75 for mini stripes. Whatever you do, just careful not to attract wildlife.

(All the images, trademarks, logo's shown on this post are the property of their respective owners)
Roshan Jerad Perera