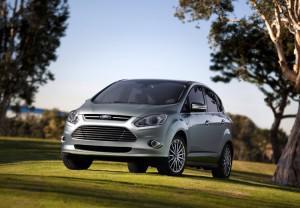 A press release from Ford indicates that the C-MAX Energi is the company's first production plug-in hybrid. The C-MAX will have a range approaching 500 miles (800 km) combined between the electric capability and the internal combustion engine. This combination puts Ford's plug-in in the same realm as the Chevy Volt, which has a range of roughly 400 miles (~650km).
Ford touts the following benefits of the plug-in hybrid technology:
Electric driving range, perfect for emissions-free and silent city driving
Potential consumer savings on energy and fuel costs thanks to improved fuel efficiency over a standard hybrid
Increased use of electricity from renewable energy sources (e.g. wind and solar), where available, for vehicle recharging
Reduced environmental impact through reductions in greenhouse gas emissions
Reduced dependency on petroleum and increased energy independence
According to CNN Money, production will begin next year. "Gasoline and diesel-powered versions of the C-Max are already on sale in Europe but aren't planned for the U.S. Including these vehicles, Ford said it will triple production of 'electrified' vehicles in the U.S. by 2013." The category of electrified vehicles "include purely electric plug-in cars like the upcoming Ford Focus Electric and hybrid cars like the Fusion Hybrid sedan.
Production of the new car, set to take place in Michigan, will add more than 200 hundred jobs. In addition, Ford is planning on designing and building the battery packs, keeping those jobs in house.
The following video shows the car's release at the 2011 Detroit Auto Show earlier this year:
[Image: source]