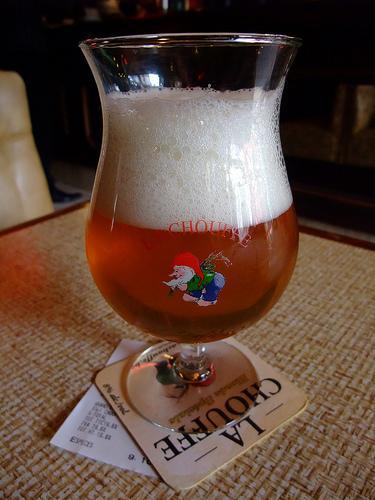 Flickr/James Cridland
The Dutch certainly enjoy their beer. Preferably topped with at least two-fingers worth of foam.
When the weather's nice, you can catch them lounging on terraces, chatting with friends or colleagues, sipping a cool, golden beer from a sweaty glass.
Seldom to bars serve mixed drinks and their wine lists are typically short and cheap. But the list of brews goes on and on and on and on. Brown beer, white beer, dark beer, light beer, rosé beer, Dutch beer, Belgian beer, fruity beer, beer in the bottle, beer from the tap, beer served in steins or in pretty glasses.
Of course the Dutch import beer - particularly from Belgium - but they also brew their own. Heineken, Grolsch, and Amstel come quickly to mind. But this list just barely scratches the surface.
Intrigued? Well, beer-lovers, read on.
Promotie Informatie Traditioneel Bier (Promotion Information Traditional Beer), or PINT, is an organization that was set up in 1980 with a goal of promoting the Dutch beer industry.
One of the ways they do this is through festivals and their Bokbierfestival hits Amsterdam this weekend for its 35th anniversary.
It has grown from a small do in an Amsterdam café to a three-day festival attracting some 10,000 visitors and featuring the best lagers from over 50 local and pan-European breweries. An undertaking that can only be handled by the Beurs van Berlage located in Dam Square.
The festival kicks off on Friday 26 October at 17:00 and closes down on Sunday 28 October at 19:00. There's a cover charge of €10 and drinking coins are €2.50 each.
As no one wants to guzzle beer to the sounds of silence, live music will also be part of the festivities. It's a wide selection including cover bands, acoustic folk, and jazz.
And you thought beer was a Belgian thing.
© 2012, Amsterdam City Tours Blog. All rights reserved. On republishing any part of this post, you must provide a link back to this original post