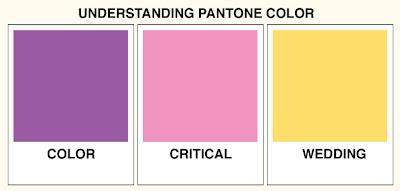 Happy Friday! As we continue to go through invitation season, it bears keeping in mind that many brides will be shown several swatches throughout this process. There are swatches for linens, bridesmaids dresses, cake toppers, dyes, etc. These colors will eventually be introduced to the wedding paper world, especially by clients that would like for the ink colors on their invites to critically match other elements of their big day.
Pantone is a universal color matching system and is the best guide to referencing swatches. It is the most widely referenced color system, and you should use it to match other swatches you may be given... Just a great way to communicate and match colors quickly and accurately.
Pantone TPX - Pantone TPX stands for Pantone Textile Paper eXtended (Fashion + Home)
Pantone TCX - Pantone TCX stands for Textile Cotton (Fashion + Home)
Pantone C - Ink on coated paper (Graphics)
Pantone U - Ink on uncoated paper (Graphics)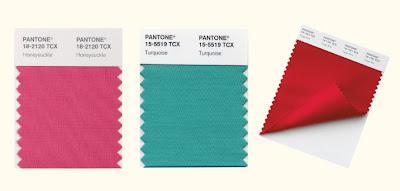 The Dessy Group (popular bridesmaid dress and formal gown company) has even gone so far as to create chips or "chiplettes" for brides to use as reference for their products. I just had a client refer me to what the Dessy Group calls fuschia. The "chiplette" they provide has a corresponding TPX number you can reference. There is also a QR code that will lead you back to the Dessy Groups website.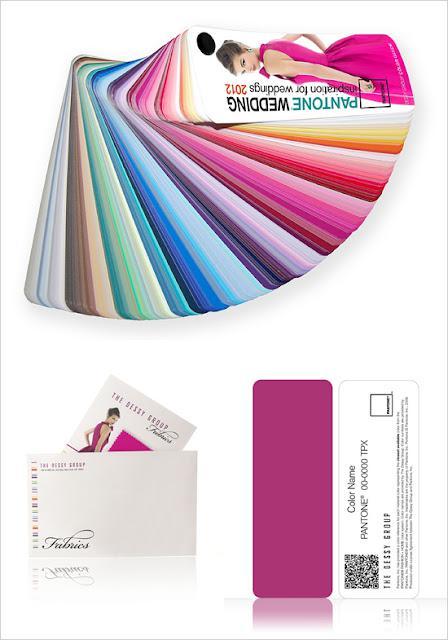 Dessy Groups Pantone Chiplettes
For design/graphics purposes, it helps to know how the fashion + home color system corresponds to the graphics system. Here are a couple of tips to find that color:
The Pantone home page is where you should begin: www.Pantone.com
There is a color matching system tool within their site called the myPANTONE X-ref (Color System Cross Reference)
Here, you are able to indicate the TCX or TPX number that you have and then find the corresponding graphics color. There is even an option to match colors within the plastics color system.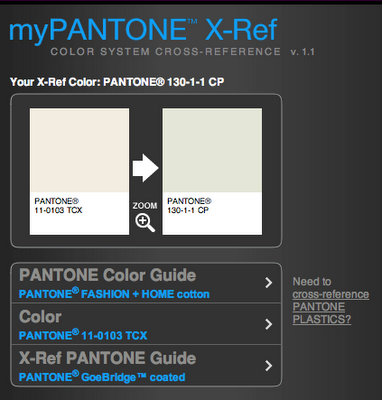 This tool will bridge the gap between Textile colors and Colors that will
translate to the graphics world. Try it out!
Have fun with all your wedding colors and I'll be back on Monday! Have good weekends!
Thanks,--ct