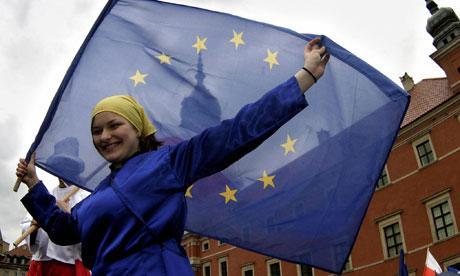 A woman waves a European Union flag in Warsaw. Poland has called for an increased commitment to democracy assistance in Europe. Wojtek Radwanski/AFP/Getty Images
The Polish people have a saying: za naszą i waszą wolność – for our freedom and yours. The phrase dates back to the era when the Polish state had ceased to exist and its exiled soldiers took up the cause of independence movements throughout the world. Now that Poland has regained its independence and its freedom, it has become a leading voice for the spread of democracy throughout post-Communist Europe and beyond.
As it assumed the presidency of the Council of the European Union on July 1, Poland's leaders called for the the creation of a European Endowment for Democracy – an organization which, like the US-based National Endowment for Democracy, would support democratic organizations and civil society. Other European countries should follow Poland's lead and support the Endowment for one key reason: Europe needs it.
While the great majority of European countries are functioning democracies with well-established institutions, meaningful and competitive elections, and respect for rule of law, there remain several countries where democracy is weak, troubled, or even – in the case of Belarus – a complete façade. The countries of the Western Balkans all have aspirations of joining the EU, but must shore up aspects of democratic governance to do so. Bosnia and Kosovo in particular have deeply chaotic institutional arrangements resulting from the conflicts surrounding their independence that must be addressed to ensure their continued existence as functioning states, let alone EU members. Post-Soviet Europe faces a more existential democratic crisis – Belarus is a consolidated authoritarian state and there is no guarantee that Ukraine, Moldova, and Georgia will not share that condition in the future.
In this uncertain atmosphere, European countries have done their part to support democratic development in the continent, but in a highly varied and uncoordinated manner. West European countries have tended to take a "development first" approach, hoping that increased living standards and integration with the rest of Europe will bring about a more participatory approach to governance. Newer EU members – chiefly the Czech Republic, Poland, and Slovakia – have taken a more direct approach to democracy assistance, but, as a recent report from the Carnegie Endowment indicates, have each done so in their own way, focusing their efforts on a particular country or group of countries. Furthermore, most European countries lack independent development agencies, instead channeling aid through their foreign ministries and embassies abroad, thus subjugating democracy assistance to other policy goals.
A European Endowment for Democracy will provide an effective means of supporting democratic growth in Eastern Europe outside the bounds of the complex and sluggish European bureaucracy. There are several things the EU can do from the outset to help ensure the new Endowment is a success. First, the Endowment should be based not in Brussels but in one of the Central European countries that has lent strong support to this form of democracy assistance. Warsaw is an obvious choice, but other candidates such as Prague or Vilnius would also make sense. This would not only underscore the independent nature of the Endowment, but basing the organization in a post-communist country would act as a powerful symbol of the ability of Europeans to work together to bring about democratic change.
Second, the Endowment should be funded not from the central EU budget but by individual member states, at whatever amount each country finds appropriate. Again, this would emphasize the independent nature of the Endowment, while also adhering to the values of democracy and transparency it will proclaim. Furthermore, a system of voluntary contribution will increase buy-in among the countries that contribute the most to the Endowment, and encourage them to remain active in helping it succeed.
Finally, and most importantly, the Endowment should support not only NGOs outside of the EU but also organizations based within the EU that work closely with counterparts in countries requiring assistance. For years, NGOs such as the Stefan Batory Foundation in Poland and the Pontis Foundation in Slovakia have implemented democracy-focused projects abroad, often with support from the NED.
The European Endowment should adopt this system of triangulation between itself, EU NGOs, and recipient country NGOs. Doing so will carry many benefits, including a high level of effectiveness at relatively low cost while fostering a sense of identity and common democratic destiny among Europe's oldest and newest democratic states.