TAKEAWAY: The numbers tell the success story of the Gulf News Tablet: it has been downloaded 17,786 times since it was launched in March as one of the first newspapers apps curated as a special edition. Here is an example of how news apps need to provide for experimentation, constant upgrades and a high learning curve for those involved in their creation.
Success for a news app that pioneered with concept of editioning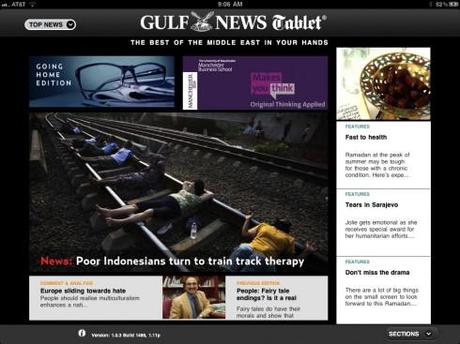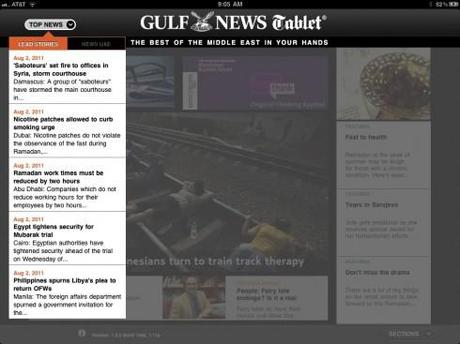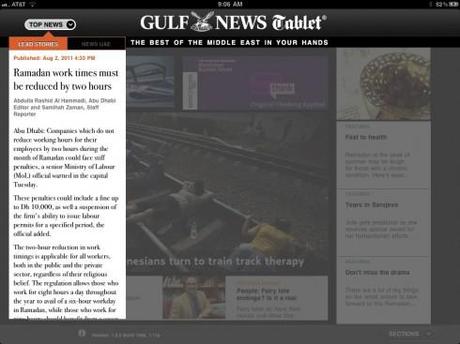 It was truly one of the first curated iPad news apps to appear.  Today, the Gulf News Tablet, the iPad app edition of Dubai's Gulf News, has been downloaded 17,786 times since it was launched in March, according to Apple statistics.
From the start, when Gulf NewsEditor-in-Chief Abdul Hamid Ahmad , invited me to join his newly appointed Tablet team, formed by editor Anupa Kurien and design director, Miguel Gomez, my first recommendation was that we create a special app edition for the Gulf News, and even went as far as to discuss calling it Gulf News Tablet, so that even the name would give it its own identify.  Miguel and I had fun conceptualizing the logo for the Gulf News Tablet, saluting the past a little bit by using Old English style lettering for the word Tablet.
Today, as I read the story of Gulf News Tablet's success, presented in the words of the editor, Anupa Kurien, I remembered that it was not easy to proceed with a "curated" concept for the newspaper's first news app, especially since our suggestion was to NOT dump the entire contents of the newspaper into the app.  As Anupa tells the story: "Most news applications had gone for the conservative process of automatic feeds from their websites. It was a safe option but did not offer that much more than a smart phone application. It looked different because of a designed interface skin."
But we prevailed, and the first prototype for the Gulf News Tablet already was based on the concept of "editioning"——and, in fact, pour first prototype called for three editions a day: morning, lunch and going home.  For logistical reasons, the lunch edition was scrapped, so the Tablet has a Morning Coffee and a Going Home edition now.  Who knows? Perhaps the lunch edition may appear in the future.
Editor Abdul Hamid explained the concept: "Our tablet application is unique and when we decided to launch, we chose to be a real application not just a web-based news feed."
At the start, however, there was no news updates between editions.  And we learned that users wanted to get a sense of news updates.  Now the newly revised version 2.5 of the Tablet incorporates a news feed, which allows the user to see what the most recent story updates are. A pop up window appears, and a summary of updated headlines makes those stories available.
The Tablet experience has shown us that, when it comes to tablet development, one must experiment, listen to users, and proceed to upgrade and to enhance sometimes from day to day or week to week. Such was the case here.
To hear Abdul Hamid tell it:
"Readers who got used to the web-based news feed applications, as majority of the news houses were following that path, didn't like our application in the beginning.
"Their initial expectation was that it would be a web-based news feed but found it was not and weren't happy. We welcomed the negative feedback from some of these readers. We understood their reaction. But we knew our focus and by keeping that in sight and developing the application in content and functionality, we are proud to say that our reader visits jumped by 210 per cent, especially over the month of July. And all of it is direct traffic based on data received from Google Analytics. And the downloads have reached a cumulative figure of 17,786.
"We consider this a success for a news application of this nature from the region."
In other words, while we see the Tablet as a lean back, curated edition, we know that users may wish to lean forward at any moment to update the news. Still, as Anupa explains it, the curated editioning concept prevails:
This new curated edition, called Morning Coffee, is released every day by 11am. The next edition brings the day's top stories from around the world conveyed through visual journalism. Again, selected by the dedicated team with input from the design and photo sections. Titled Going Home, it is released at 6pm.
For more information:
http://gulfnews.com/business/media-marketing/gulf-news-tablet-application-scores-high-1.846850
TheMarioBlog post #824