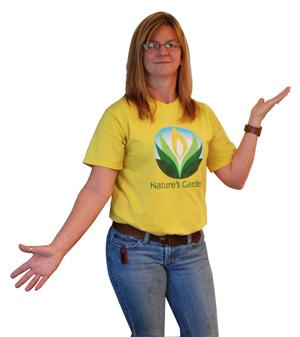 This is Bonnie of Natures Garden.
It is time to get excited!  Another Thursday has passed which means that we have another employee spotlight creation to share.  We are currently in week 10 of the Natures Garden Employee Challenge.  Each week we ask one of the employees to share their spotlight creation- a project/recipe that they create using Natures Garden's supplies and one of their personal favorite fragrance oils.  Creativity is highly encouraged!  This week's spotlight creation was done by Bonnie, one of our newer employees at Natures Garden.  Her project is tactfully named Football Field Candle Loaf.
Bonnie was inspired by the theme of football since she has several family members that are football fans.  She also wanted to produce an item that men can make and use in their own "man caves".  So, considering all of this Bonnie decided that she would make a loaf candle that would resemble a football field.  The two fragrance oils that she selected for this were Fresh Cut Grass (for the field) and Leather Jacket (for the football).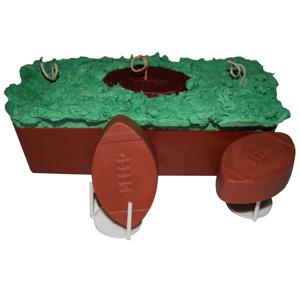 A image of the finished Football Field Candle Loaf and football melt and pour soaps.
Besides the football loaf candle, Bonnie also brought another unique idea to share with everyone.  One night while she was figuring out the specifics of her project, she had ordered pizza for dinner.  When it arrived, and she opened the box; a light bulb went off.  She saved and washed the pizza saver.  (If you do not know what this is, it is the small plastic table that the pizza companies place in the center of the pizza to prevent the cardboard from falling in.)  She was inspired.  Bonnie thought that this would be a perfect kicking tee; just like the professional punters use.
She was right.  After making her Football Field Loaf Candle, Bonnie made a small second project-  Football Soaps.  Using the same Silicone Football Mold from her candle, she melted Goat's Milk Melt and Pour Soap.  Using Fun Brown Oxide, she colored the soap.  Then, she selected a manly scent- The Perfect Man Fragrance Oil.  Once the soap hardened, she popped it out of the mold, and the football fit perfectly right in the pizza saver.  An adorable bathroom soap concept for any football lover who occasionally orders pizza too.
Besides football, Bonnie also enjoys spending time with her family.  She is a big pet lover and has 2 Dachshunds (wiener dogs).  Their names are Oscar Myer and Roxie and they love going for walks.  Because she and her husband have an RV, they enjoy camping and the outdoors whenever they can.
Bonnie also enjoys attending Zumba Fitness, and used to be an instructor of Zumba as well.
In her daily spare time, Bonnie listens to and enjoys all music types from Metallica to Miranda Lambert to Glee.  She is also very into the Candy Crush Saga Game.
When it comes to Bonnie's Moto for life, she lives by words her mother always said:  "Listen to people's advice, but do what you feel is right."
To view the complete instructions for Bonnie's Spotlight Creation Football Field Candle Loaf, you can simply click on the link.  The recipe is also available in the free recipes and classes section of the Natures Garden website.