It seem silly to even discuss the news because the news is not particularly good but – so what?  What does news have to do with this market?  I think the only news that matters is the news that is ostensibly bullish, which is our own long-term bullish premise on hyper-inflation.  That is the rising tide that will lift all ships as the cost of everything, including stocks – goes up and up and up.  Whether or not there is any real relative gain is besides the point – you'd better be invested in SOMETHING or the thing you are thinking about buying today will cost you a hell of a lot more tomorrow.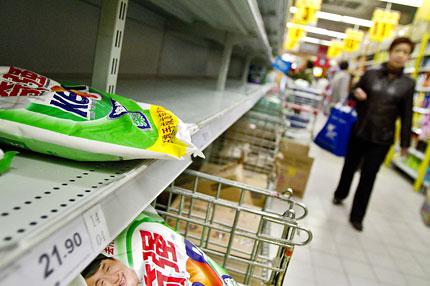 China is certainly getting that message loud and clear as "panic  buying" has hit supermarkets, shops and even online shopping websites in Shanghai.  That old bugaboo "inflationary expectations" has infected shoppers in Shanghai, who are rushing to buy up goods in anticipation that prices will be higher tomorrow than today
.  
"People are overreacting," said Sun Lijian, an economist at Fudan University. "But you can't blame them when so much news about price increases springs up everywhere, warning that you may wake up the next morning and see a higher price tag on the product you want to buy." The Consumer Price Index, which measures broad price fluctuations, seems to be invading the public psyche. Even unsophisticated old peddlers on the street now know the phrase CPI.
In February, China's CPI expanded 4.9 percent from a year earlier, the same rate as in January. That's above the government's 2011 target of 4 percent inflation. Worse, some economists are predicting that inflation may have accelerated to 5 percent in March.   Meanwhile, Barclays declares the sky is falling in Hong Kong, noting that rising rates (due to that same inflation) are likely…