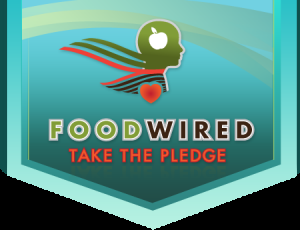 Do you know what you're eating? Do you ever ask the question, even if you don't know the answer? The FoodWired Pledge asks you to do just that; to choose good food and help others do it too. It was designed for people who care about what they eat and who want to work together to improve the quality of food systems across the globe – starting in their own backyard.
Some people don't yet realize that there's an increasing need to question what's on your plate. Others are already aware of the many challenges of our global food production system and the sad state of processed foods, but aren't sure what to do about it. On FoodWired, you'll find information and news that help tell that story, along with a growing collection of inspirational recipes designed to highlight good food (local, healthy, delicious and sustainable) and listings of local businesses who are committed to providing good food.
You'll also find stories of communities coming together to improve peoples' understanding of and access to good food and stories of individuals managing their health and leading vibrant lives through good food.
Our first stop is Colorado, but our goal is to help people across the globe who want to eat better food.
FoodWired is a way of thinking; a way of being. It is a movement happening all around you. And you can be a part of it.
FoodWired was started by Aleece Koss, long-time Internet geek and recently certified natural chef, to share the results of her own food journey and encourage others on their own.
To learn more or get involved, check out http://www.foodwired.com.
[Image source]